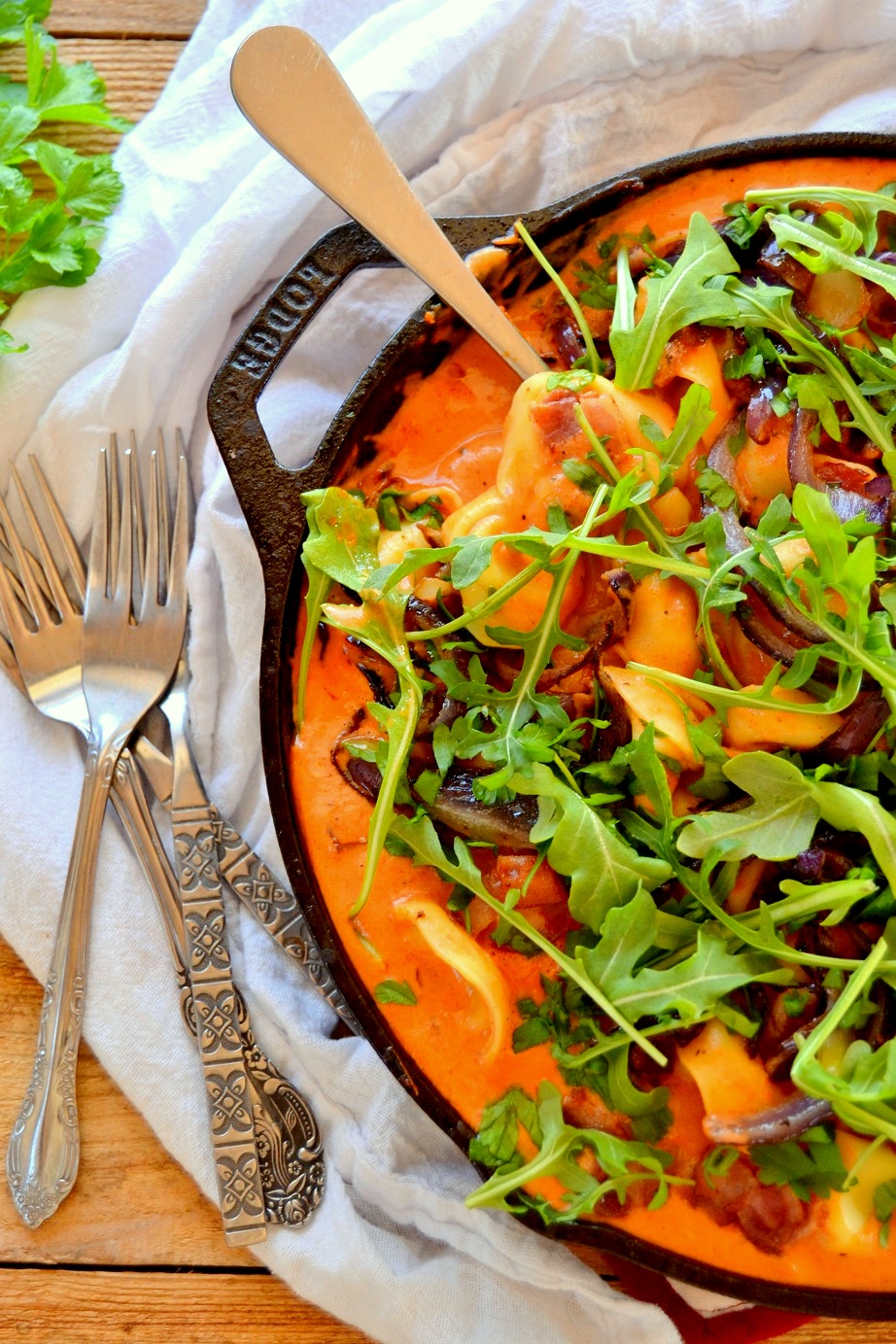 When I found myself with one whole day off, I thought I would create several new dishes, spend the rest of the afternoon editing, and then maybe get a few house projects accomplished. No such luck… This is the day our dog showed up. I had just finished photographing this dish when I spotted a dog in our backyard and then spent the next several hours trying to find her owners. You can read the whole story in my recent Daily Life post and how this stray pup has become a permanent staple of our home now.
Even though the day didn't go as planned, I'm grateful that we now have a wonderful new addition to our fur family and that the one dish I did get done turned out damn delicious! My inspiration for it was my favorite sandwich, the BLT. In this skillet you've got cheese tortellini smothered in a rich tomato and cream sauce, chunks of thick cut bacon, caramelized onions, and then fresh parsley and arugula on top. Just like the sandwich, every ingredient is good on it's own, but amazing when combined together. Make this at your own risk though.. stray dogs may appear after cooking it! 😉
(makes 6 to 8 servings)
Ingredients:
6 strips of thick cut bacon, cut into chunks
1/2 of a large red onion, sliced
1 cup chopped tomatoes (I just used 15 cherry tomatoes, halved)
2 garlic cloves, minced
2 (15oz) cans of tomato sauce
3 tsp Italian seasoning
1 tsp cracked black pepper
1 cup of heavy cream
Juice from half a lemon
20 ounces of cheese tortellini
2 Tbs fresh parsley, chopped
2 handfuls of fresh arugula
That's a lengthy ingredient list, but don't let it intimidate you. This recipe is surprisingly easy and I've broken it all down for you..
(1.) In a large skillet over low to medium heat, throw in your bacon chunks. I like my bacon when it has just started to crisp, but still a little chewy. Stir and cook it to your preference. Use a slotted spoon and transfer the bacon pieces to a paper towel lined plate to cool. Leave the bacon grease in the skillet. (2.) Next you'll toss in the onion slices. Saute for 7 to 10 minutes or until onions are soft and starting to brown. Using the slotted spoon again, transfer those to a plate and cover with foil to keep warm.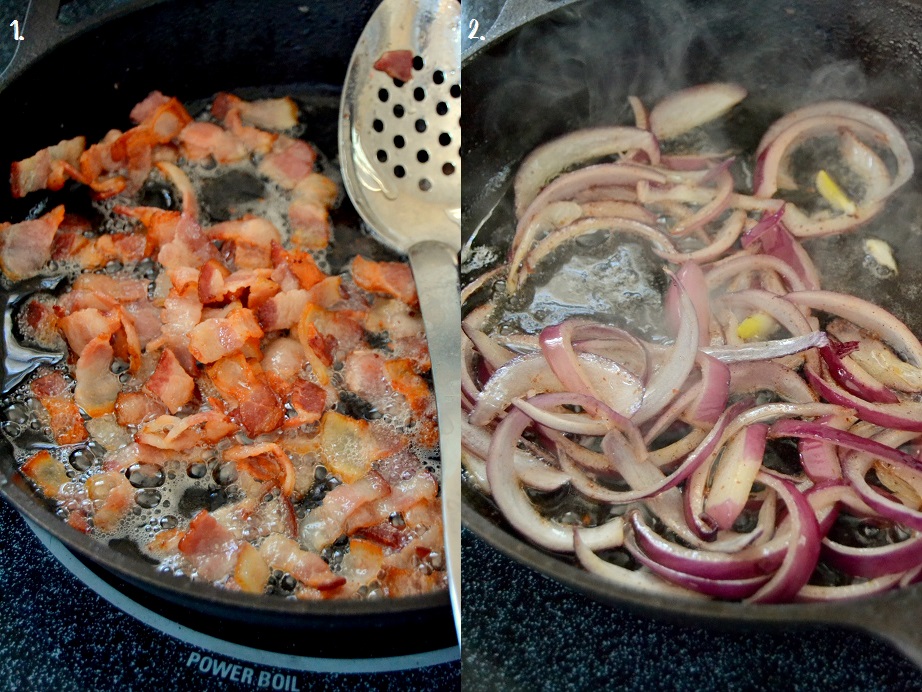 Have your tomato sauce cans ready to pour in after this next step..
(3.) With the remaining bacon grease, same skillet, and same heat temperature, throw in the tomatoes and minced garlic. Saute for 30 seconds to a minute. Don't let the garlic get overly browned or it starts to have a bitter taste. (4.) Next you'll pour in the two cans of tomato sauce. Use a rubber spatula to get every last bit out. Stir in Italian seasoning and pepper. Allow the sauce to come to a simmer (you may need to reduce the heat if it's bubbling too much) and cover. Sadly I didn't have a lid for my skillet and I had speckles of tomato sauce EVERYWHERE. Simmer for 12 to 15 minutes stirring the sauce every few minutes so it doesn't burn. (5. & 6.) Once thickened up, add lemon juice and heavy cream. Stir until completely mixed.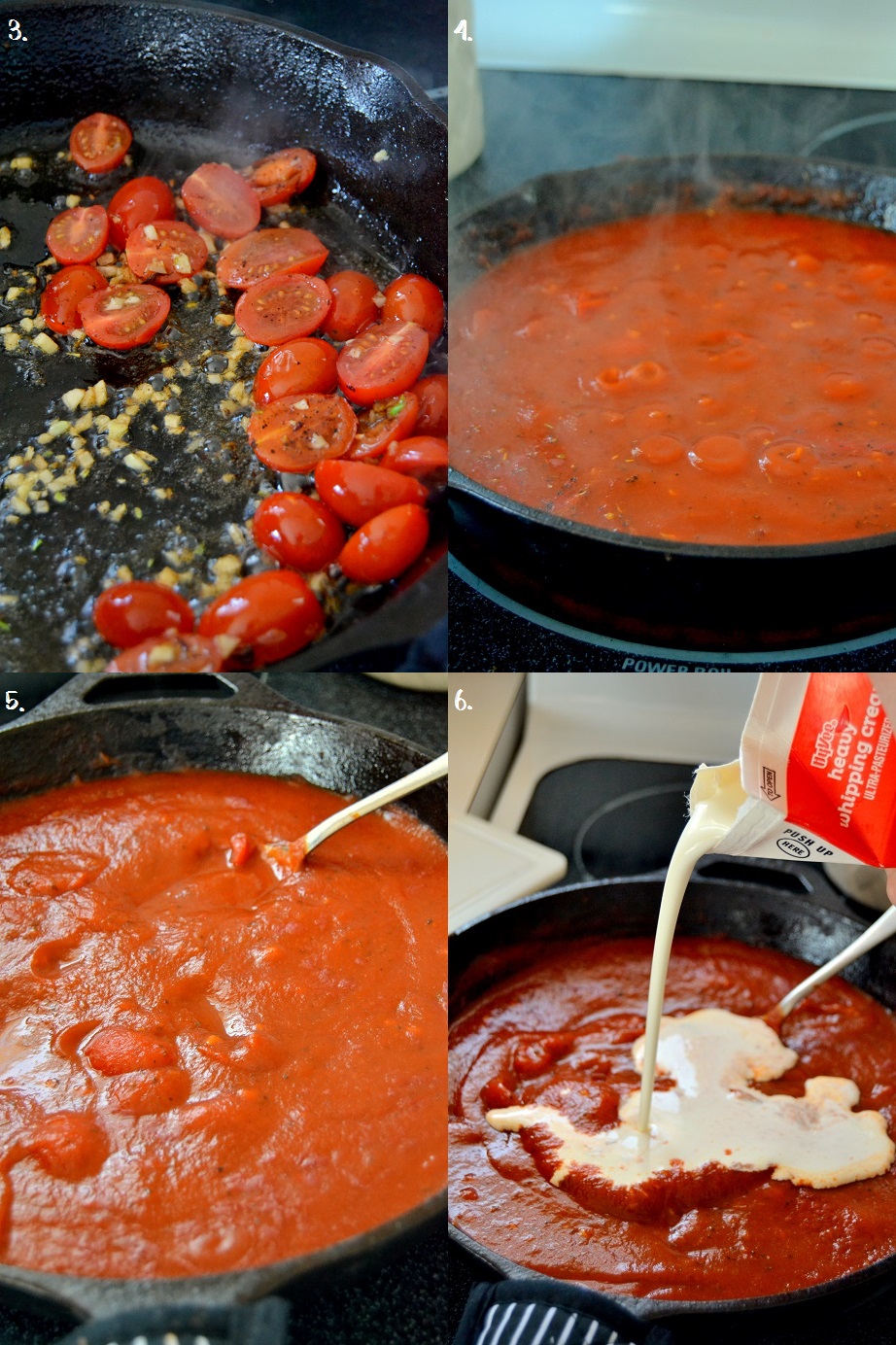 While the sauce is in it's simmer process you can cook your pasta. Depending on what type of tortellini you pick up, your cook time may be a bit different. I used refrigerated tortellini which only takes about 3 to 4 minutes. For frozen tortellini, about 5 to 6 minutes and dried tortellini, 10 to 12 minutes.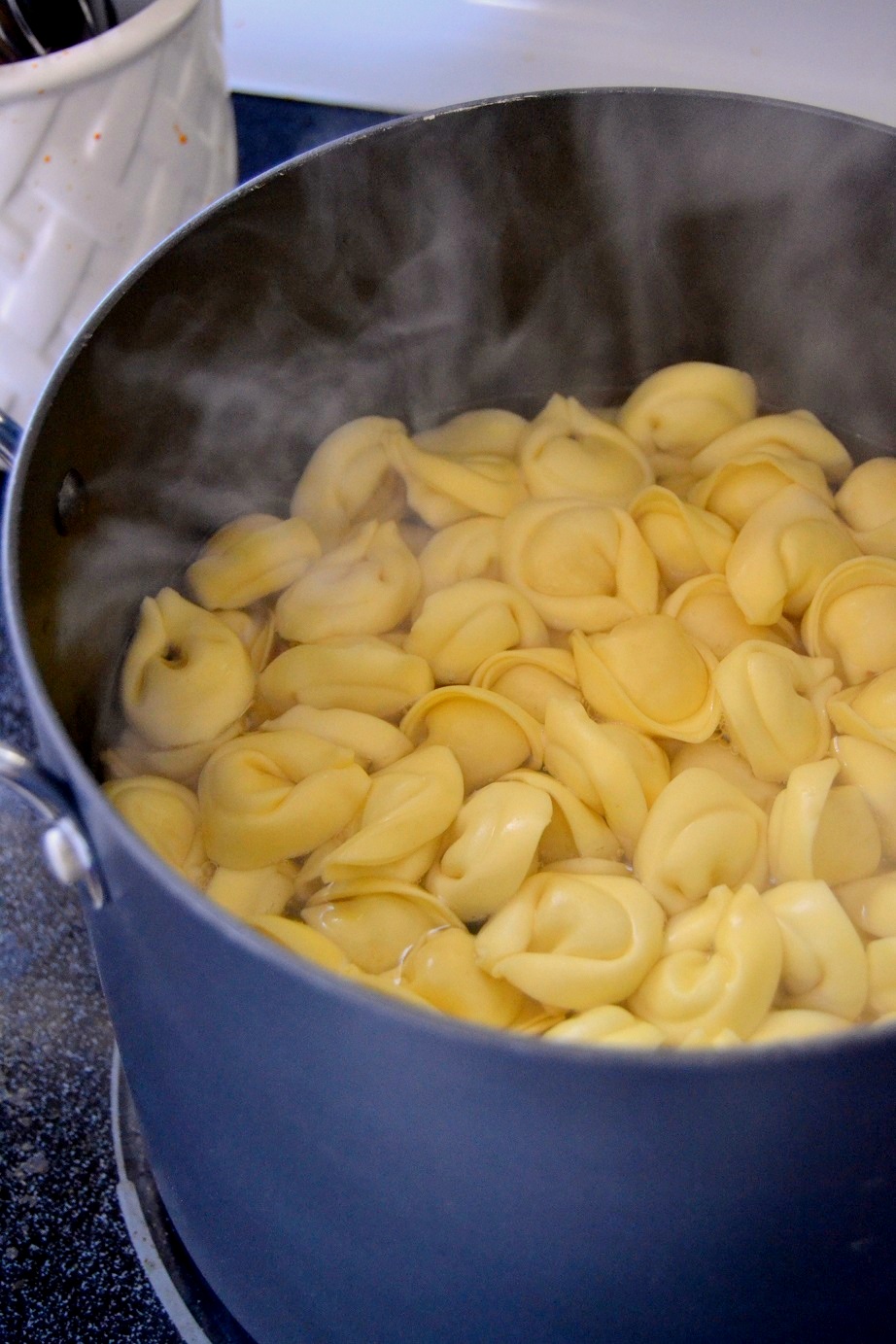 Drain pasta and return to the pot it was cooked in. Add sauce and toss to coat. I added my pasta to my skillet of sauce so it would be easier to photograph, but it was dangerously close to spilling over the edge, so just use a big stock pot for the pasta. Stir in bacon chunks and then dish it out to bowls. Top with caramelized onions, fresh parsley, and arugula.
Enjoy!