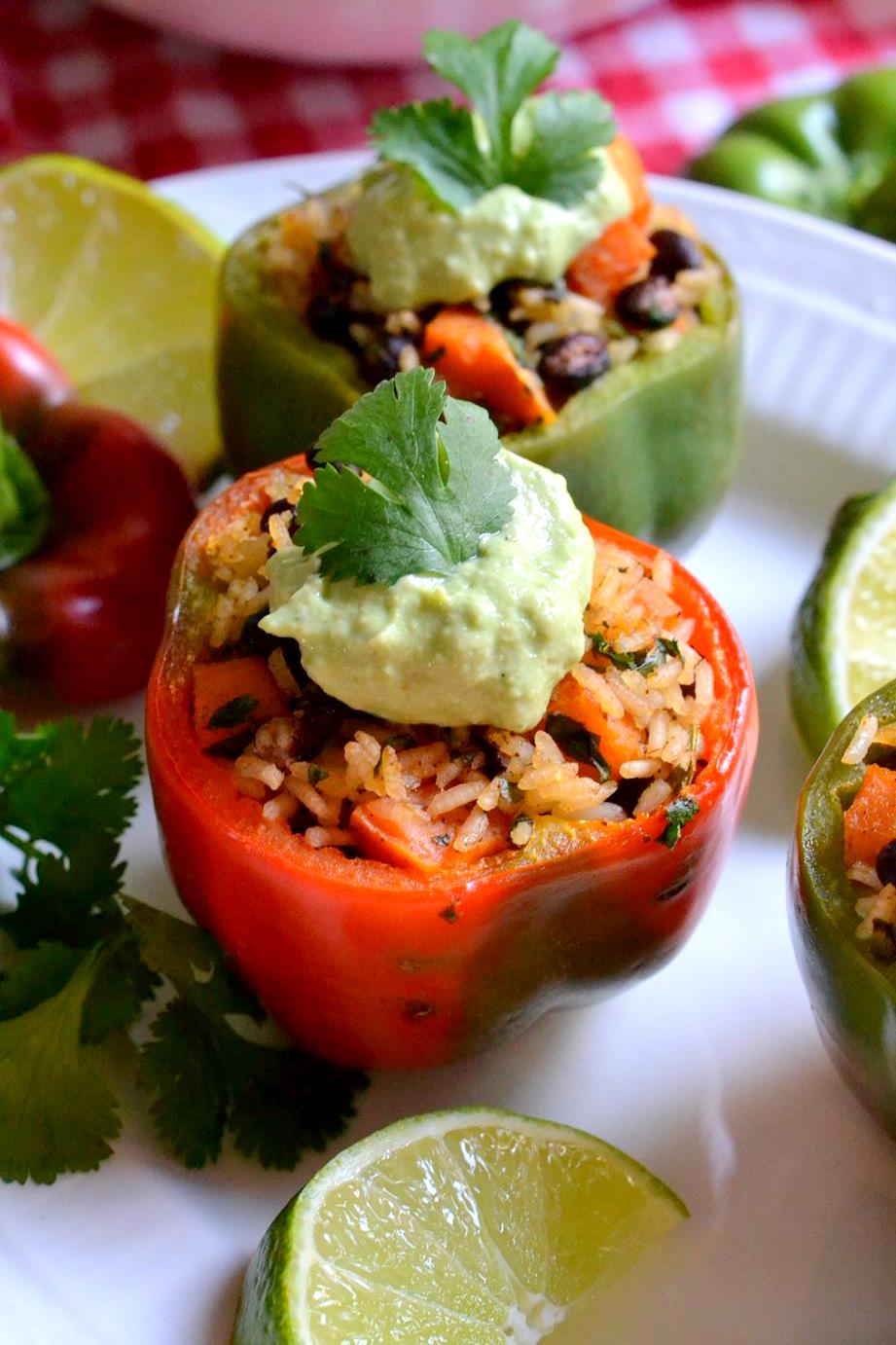 I'm not exactly sure why I'm trying to stuff all of my food lately, so I do apologize for my second recipe in a row where it involves "stuffing" of some sort. Maybe because it's getting colder and all I want to do is stuff my face? Regardless, I love making stuffed peppers, but I decided to forgo the traditional ground beef route and instead chose roasted sweet potatoes and black beans for a healthier and yet still hearty filling. I made my cilantro and lime rice (among my first few recipes published on the blog – click for a good laugh at the atrocious photos) and topped them off with an avocado Greek yogurt sauce for some tangy zip! After just two I was quite stuffed myself and it was the perfect way to use up the end-of-summer bell peppers from my mother's garden.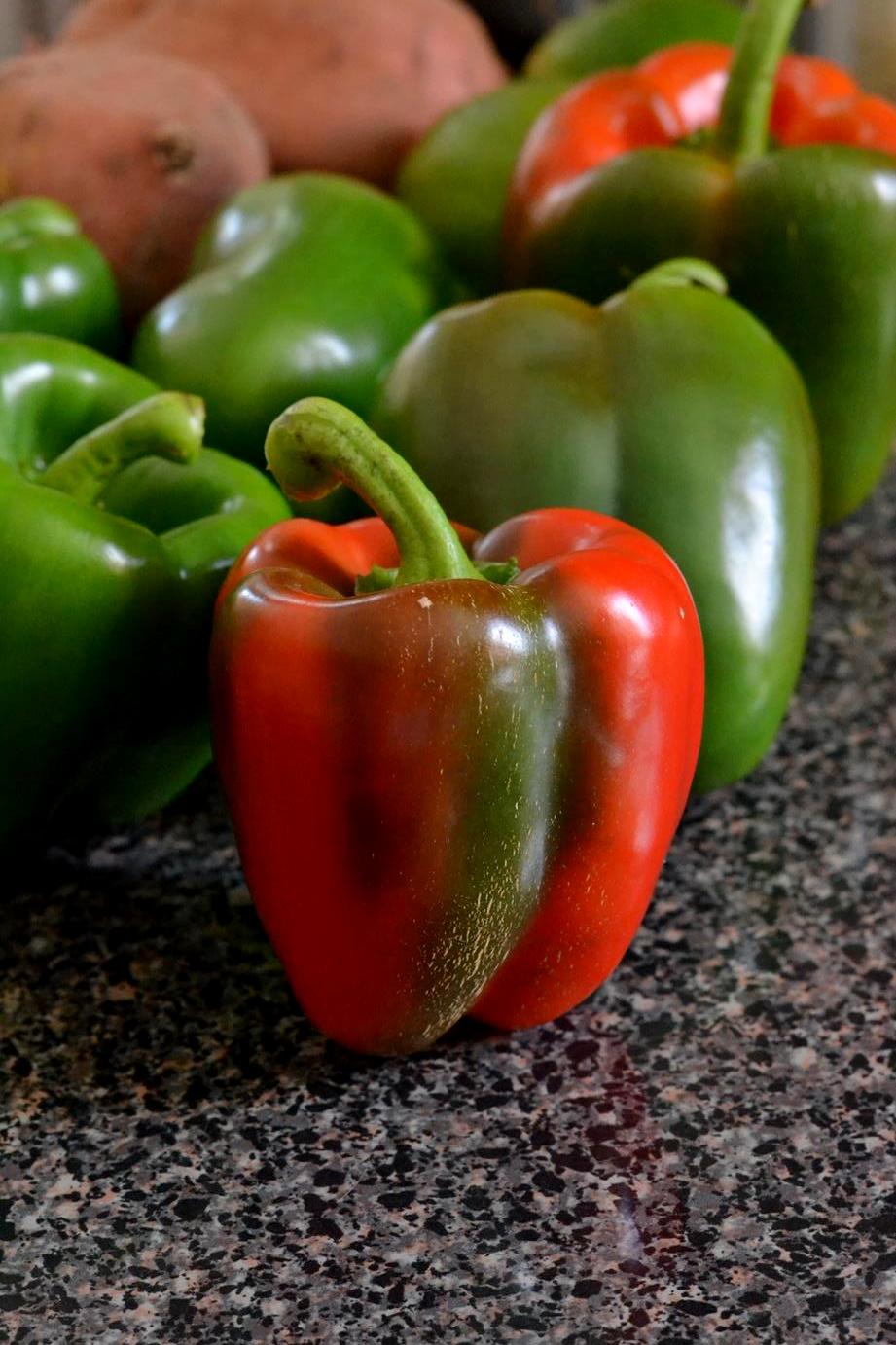 (makes 6-8 servings)
Ingredients:
8 small bell peppers or 6 large ones
2 medium sized sweet potatoes, peeled and cut into small chunks (about 2 1/2 cups)
3 Tbs olive oil, divided
1 tsp chili powder
1/2 tsp ground cumin
1/2 tsp cayenne pepper
Salt and pepper to taste
1 large garlic clove, minced
1/2 cup long grain white rice (you can also use quinoa to make this gluten-free)
3/4 cup chicken or vegetable stock
1 tsp lime zest
1/2 cup chopped cilantro, divided
1 (15oz) can of black beans, rinsed and drained
Juice from 1 lime
(I actually doubled this because I love the sauce so much!)
Avocado Yogurt Sauce:
1 ripe avocado, pit and skin removed
1/4 cup plain Greek yogurt
Juice from half a lime
1/2 tsp cayenne pepper
Salt and pepper to taste
Cut the tops off of the bell peppers and discard. Remove seeds and ribs so they're hollowed out. Fill a 9″ baking dish with just enough water to cover the bottom and set aside. This is so the bottoms of the peppers don't stick and burn while baking.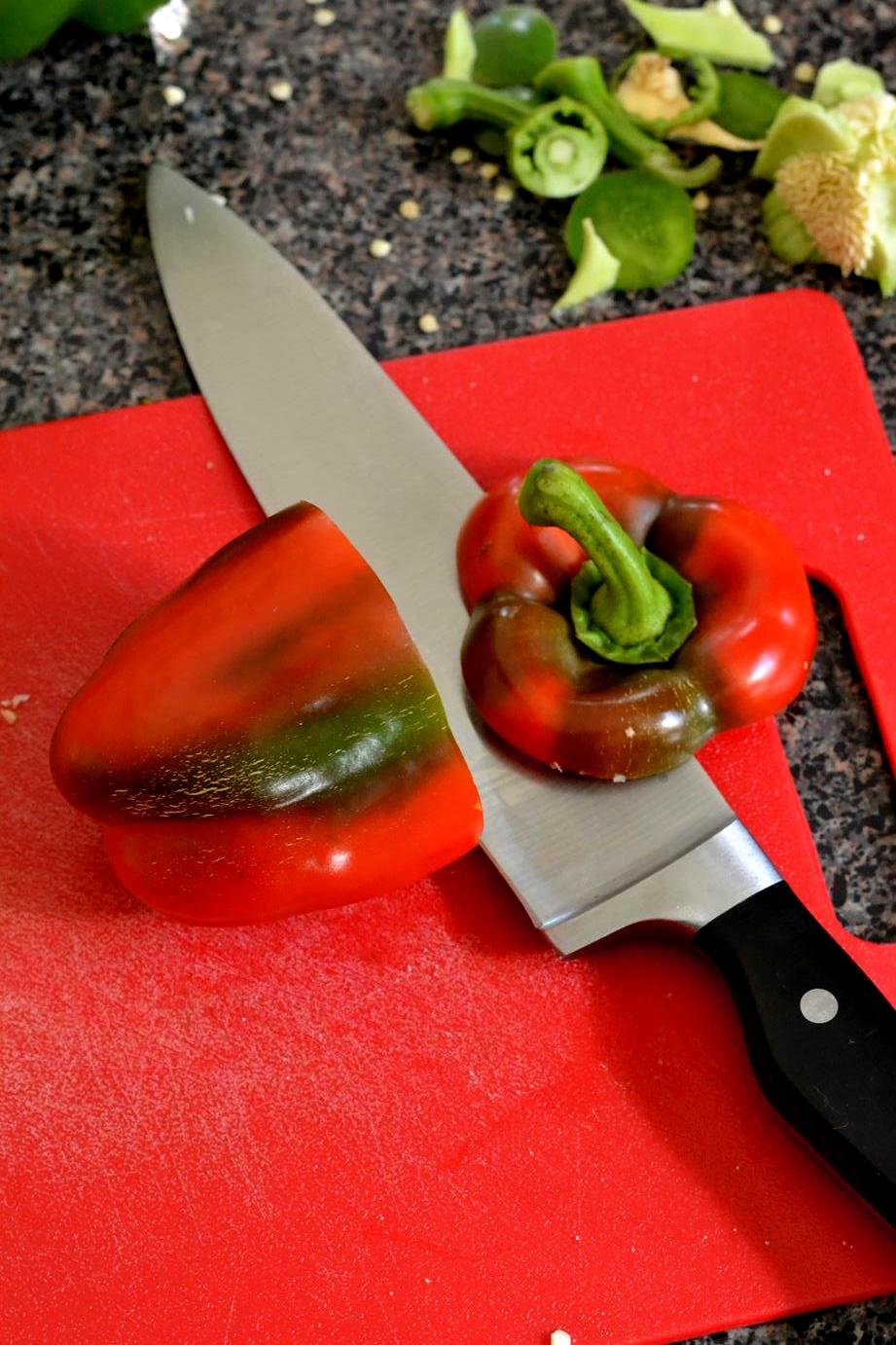 Preheat oven to 425 degrees F and line a baking sheet with foil. Transfer sweet potato cubes to the baking sheet and drizzle with 2 tablespoons of olive oil. Stir and flip to coat. Sprinkle with chili powder, ground cumin, cayenne, salt, and pepper. Stir and toss to coat evenly. Place in the oven to bake for 15 minutes or until sweet potato is tender and easily pierced with a fork.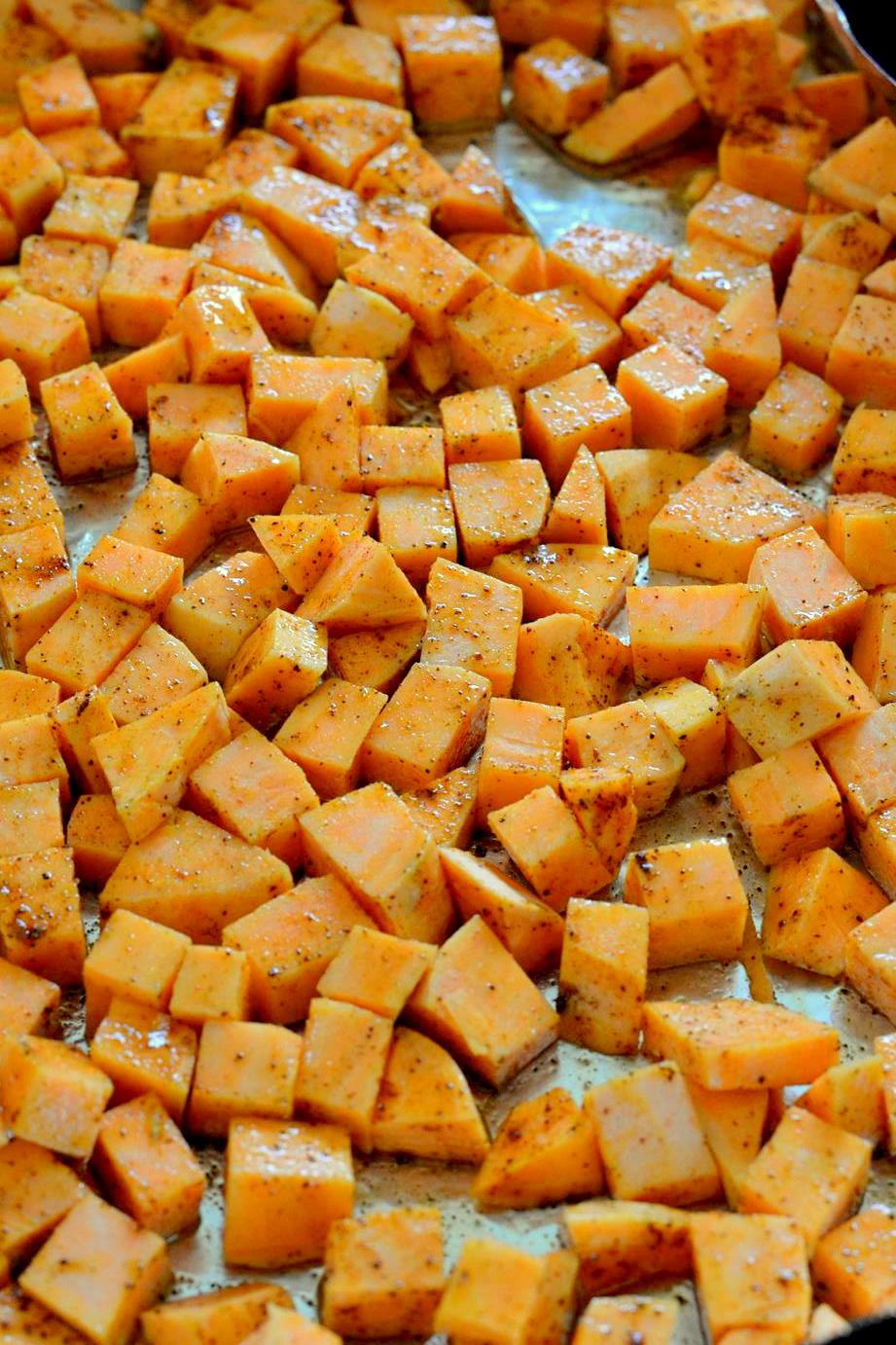 Even though it's not a large amount of rice, we're going to cook it in a large saucepan because at the end we'll use that to mix everything in. Yay! Less dishes!
In a large saucepan, heat remaining tablespoon of olive oil over low-medium heat. Once hot, add minced garlic and saute for 1 minute or until fragrant. Add rice and cook for 3-4 minutes, stirring to coat in olive oil. Add chicken or vegetable stock and bring to a simmer over medium to high heat. Reduce heat to low again and cover. Cook for 12-15 minutes, stirring occasionally, until all of the stock is absorbed and rice is fully cooked. Stir in lime zest and season with salt and pepper. Add cilantro, black beans, juice from 1 lime, and roasted sweet potato to the rice and stir to completely mix.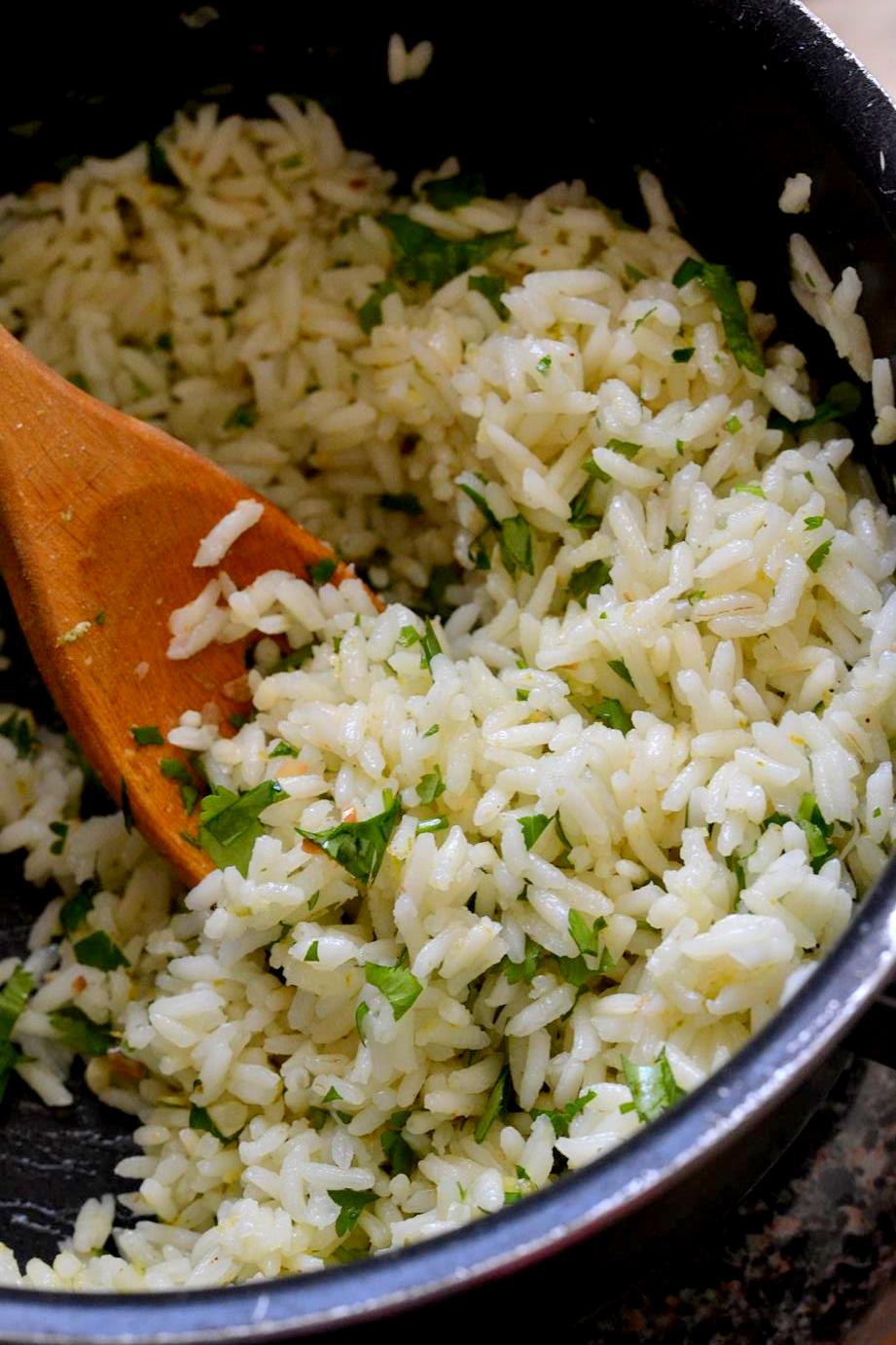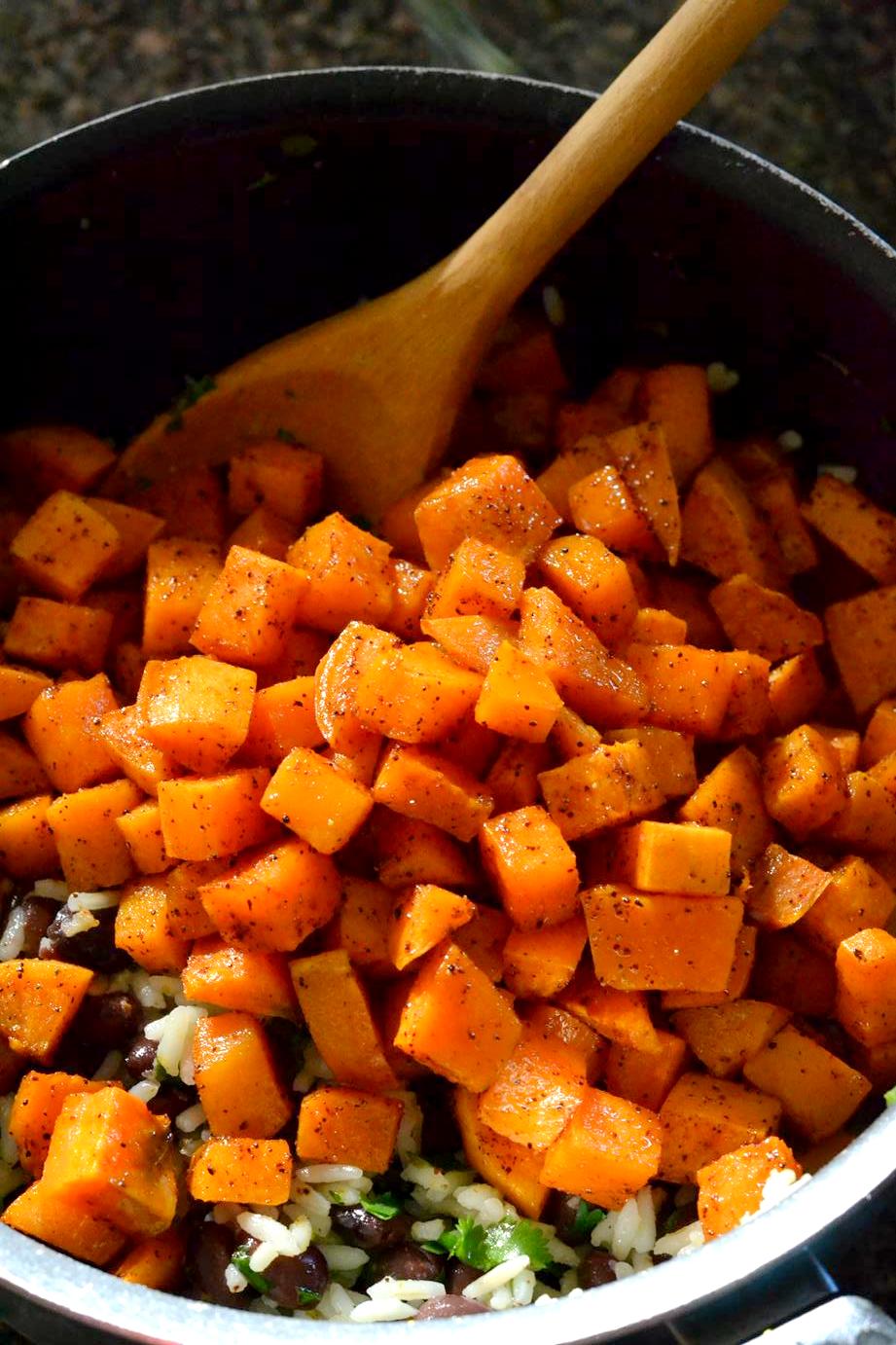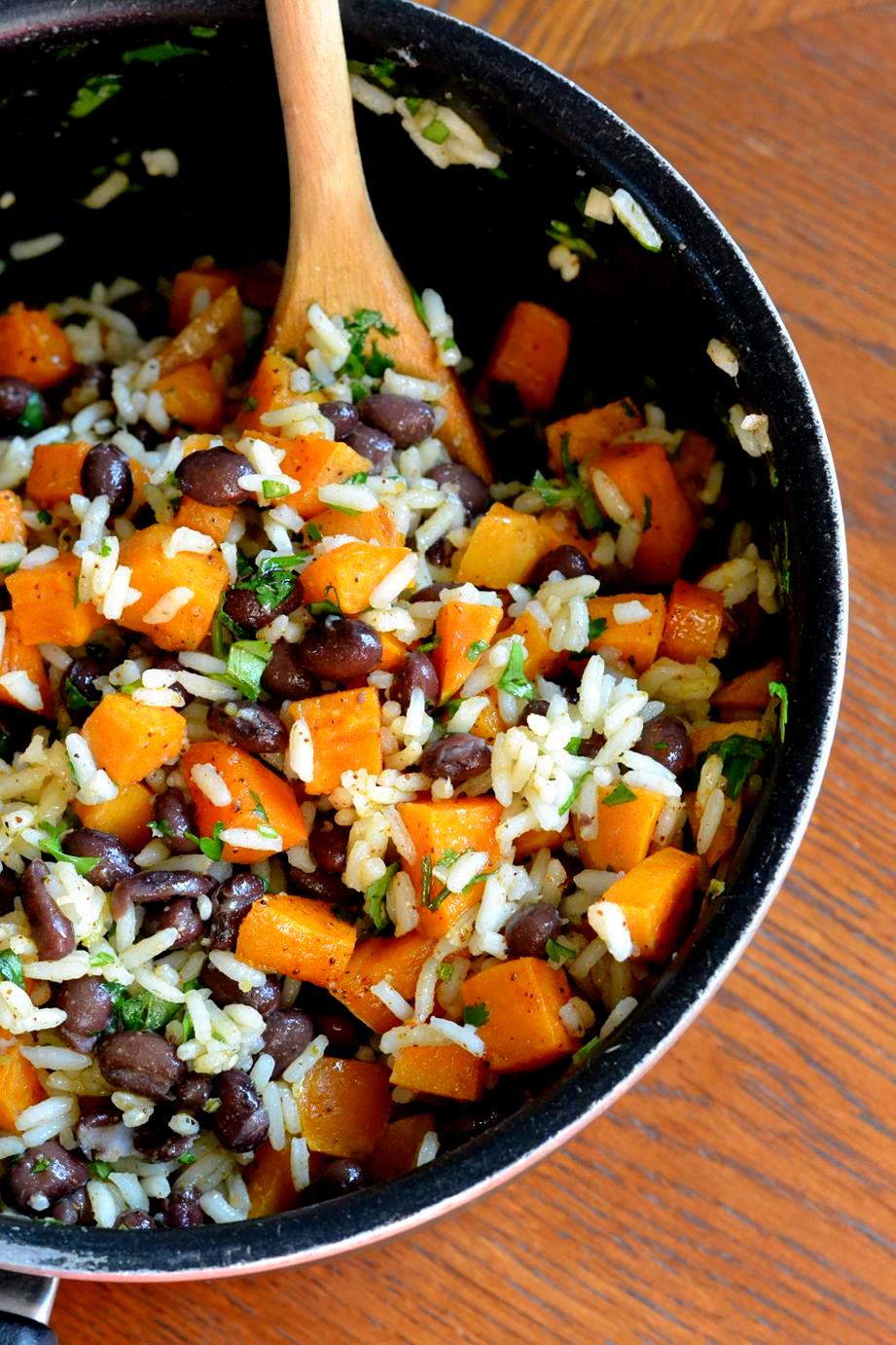 Drop your oven temperature to 350 degrees F. Spoon sweet potato and rice mixture into the hollowed out peppers, lightly packing the mixture in. Set them in the prepared baking dish. When finished, place them in the oven to bake for 25-30 minutes or until the edges of the peppers start to shrivel a bit. Allow to cool a few minutes before serving.
While those are baking, you can prepare your sauce. Combine all sauce ingredients in a small bowl and mash and stir with a fork until most of the avocado chunks are blended in.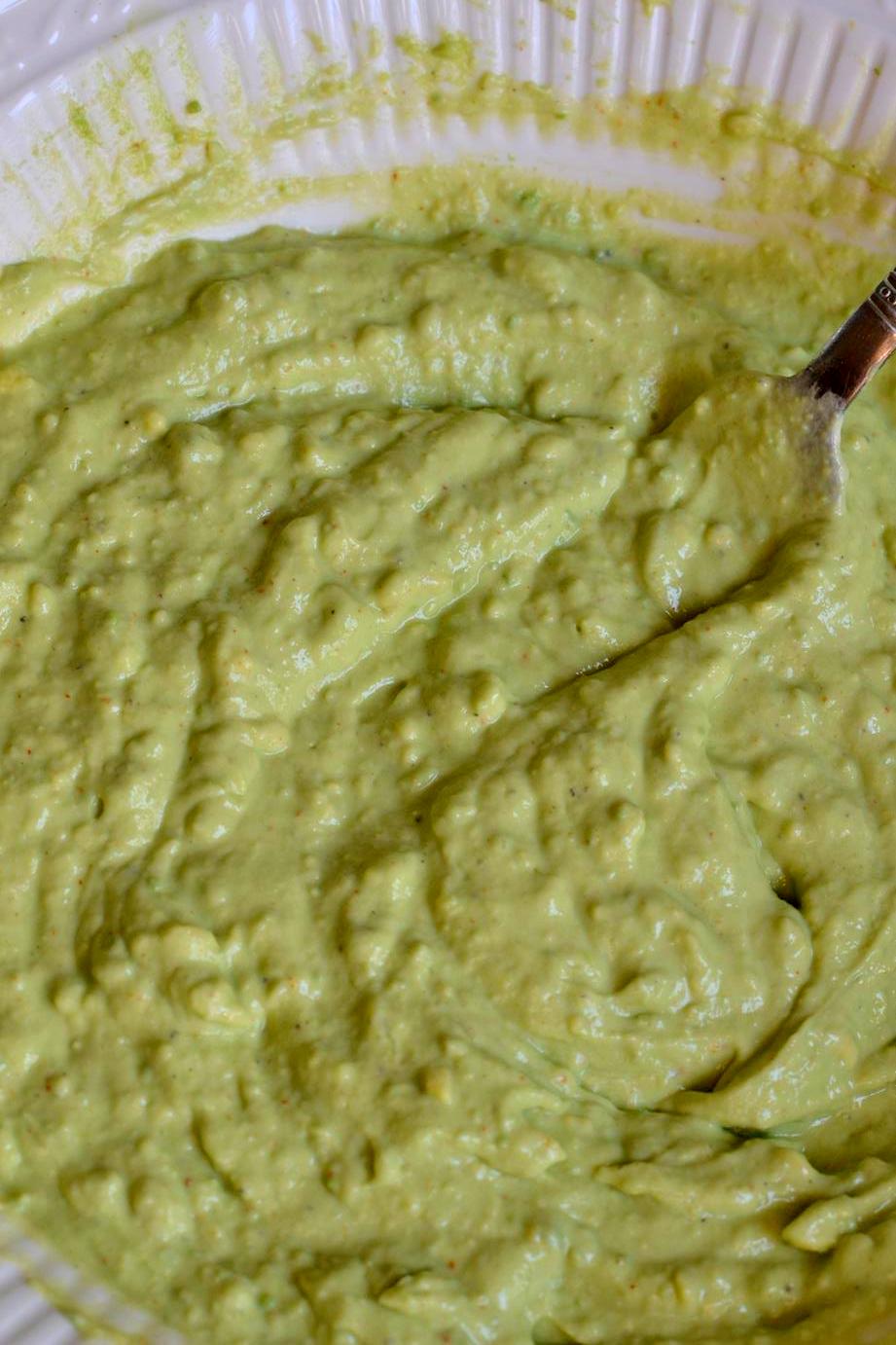 Tattooed Martha Tip: It seems like every time I go to the grocery store for avocados, there's never any ripe ones left. Look for one that's the LEAST rock hard out of the batch and instead of using a fork to mash it up, use an electric mixer to blend and break up the avocado. You'll still get a creamy texture without having to wait 2 days for it to be in that sweet spot to use.
Transfer peppers to plates, top with a heaping spoonful of sauce (and some extra on the side), garnish with cilantro, and serve!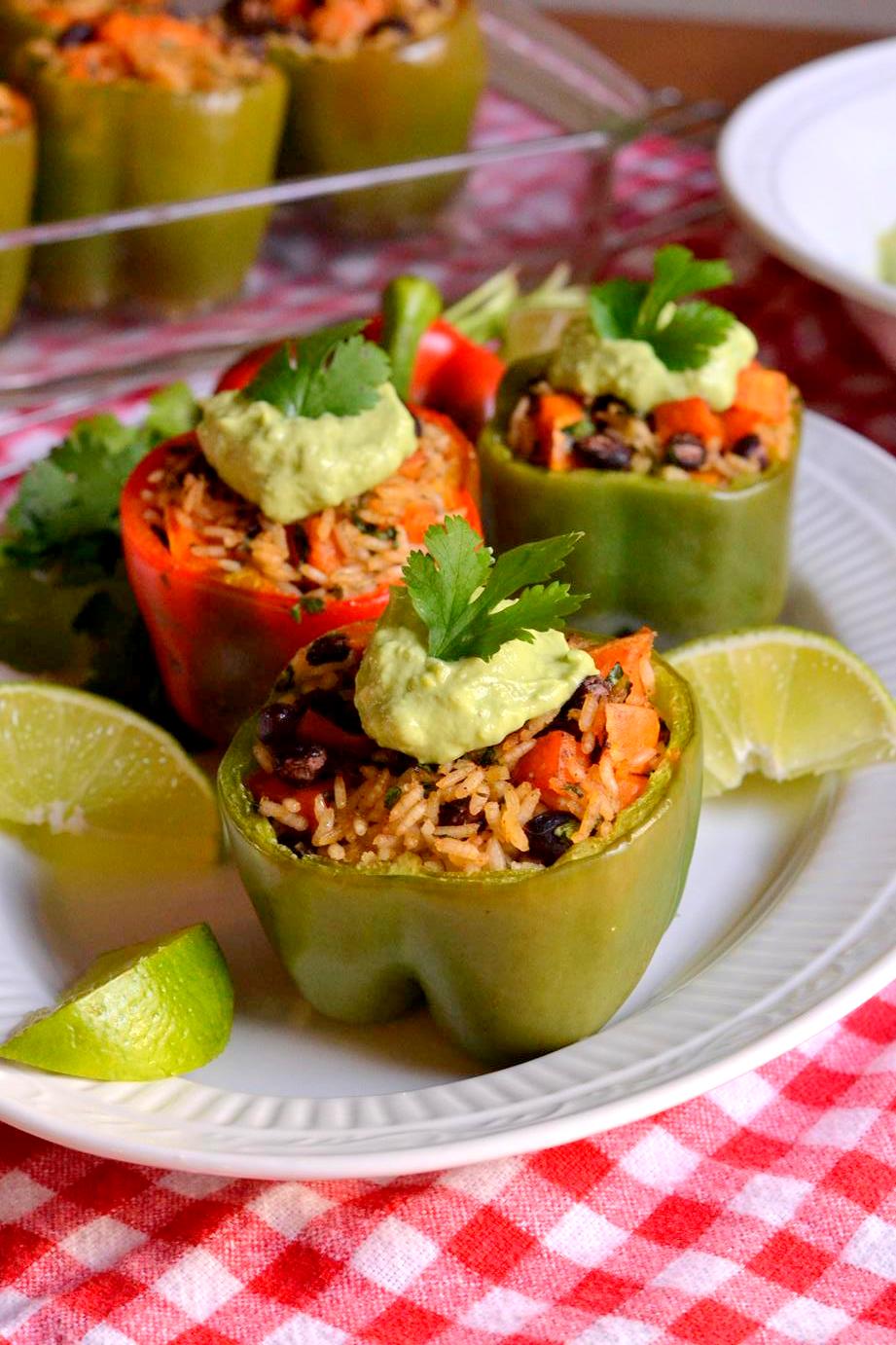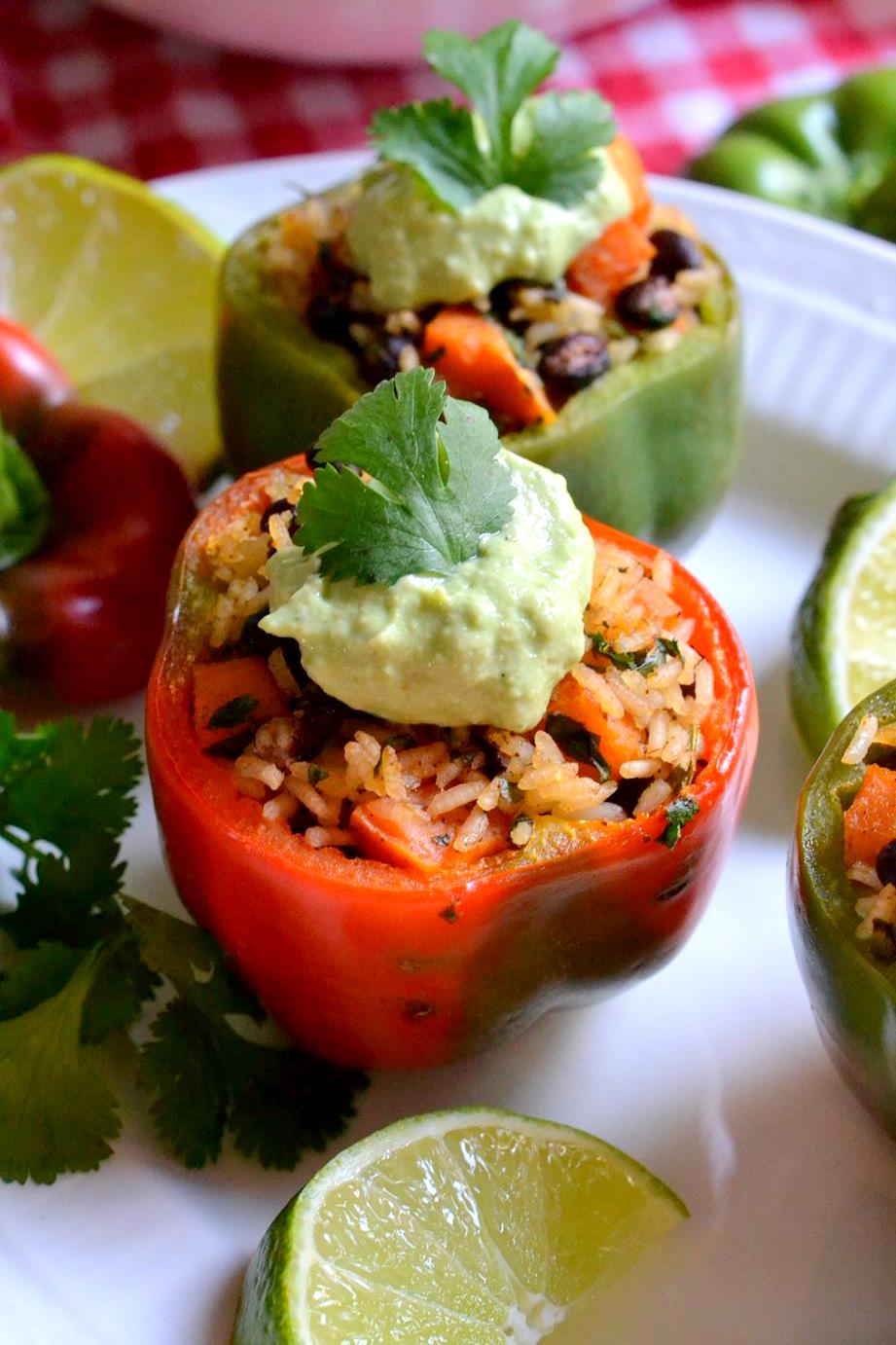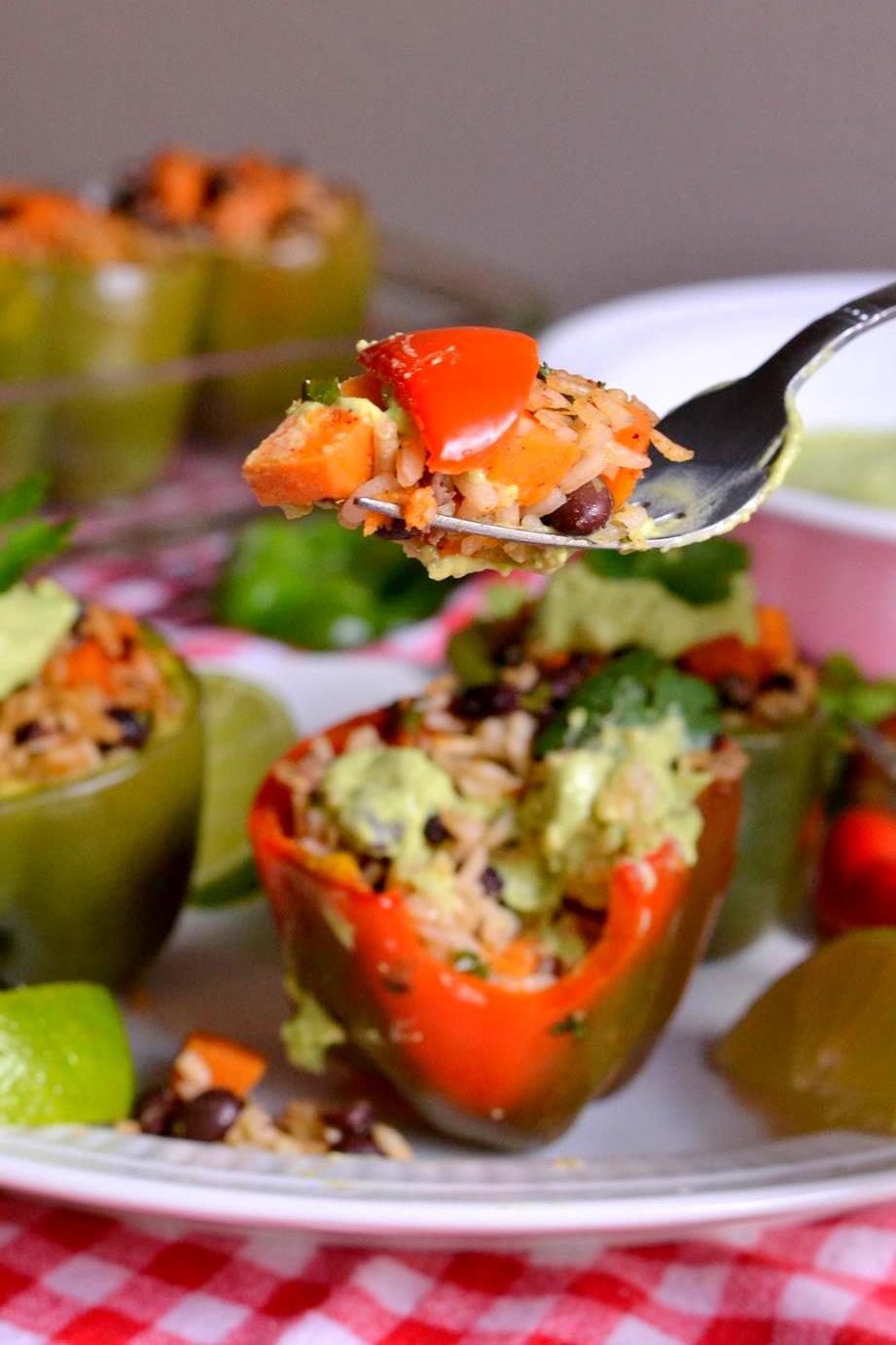 Enjoy!