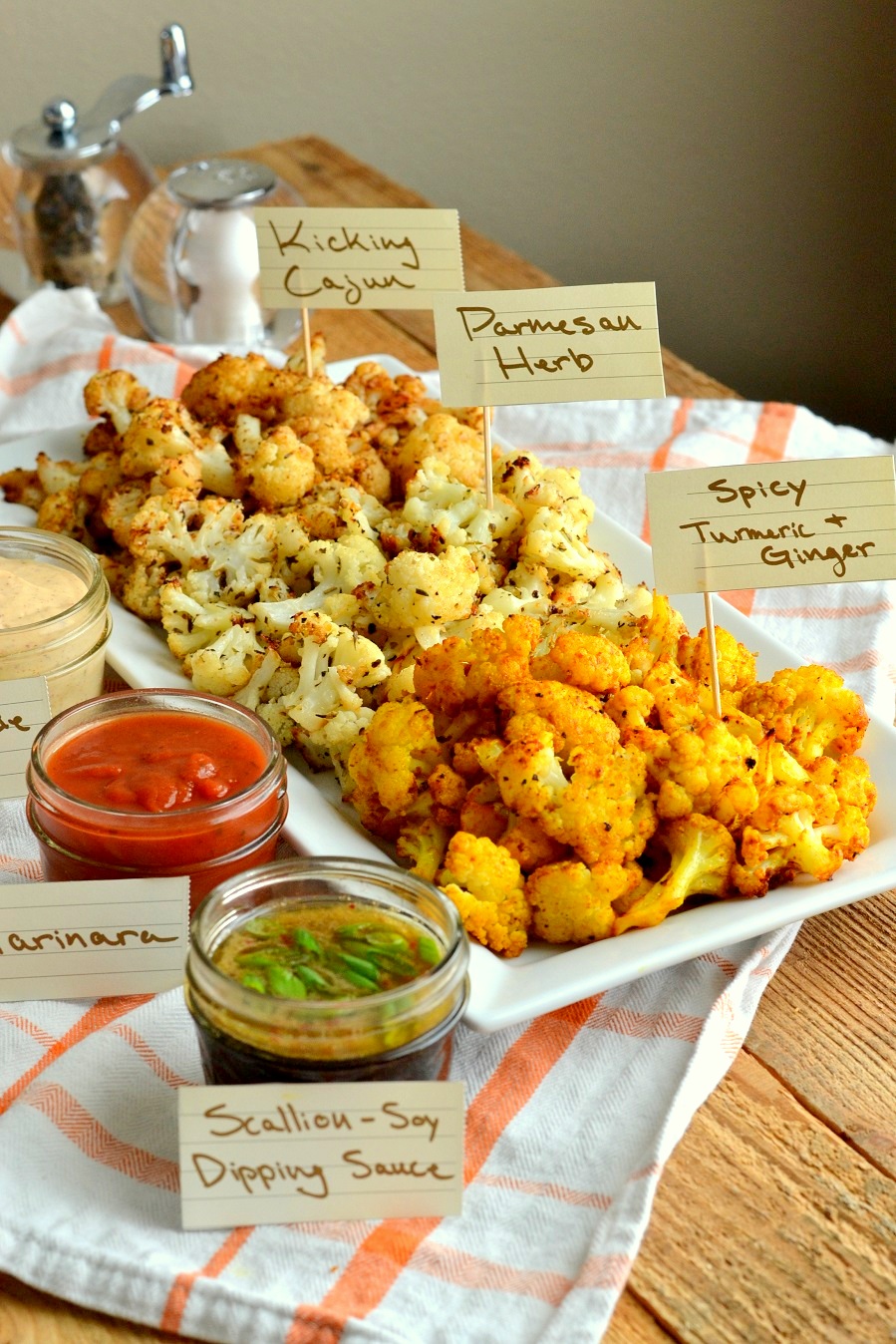 If you haven't embraced cauliflower into your life yet maybe this will be the post that makes you do it! I never used to be a fan of it myself, but after learning how to make it taste like hot wings.. I was sold! For a good throwback recipe you can see what I'm talking about here.
I decided to challenge myself with THREE new flavor variations and the best part is that they all go into the oven at once. They all come together to make a great snack platter for your next get together or if you like to meal prep it gives you a bit of variety throughout the week. Each flavor has it's own complimentary sauce to pair with it too. Kicking Cajun is just as it sounds.. packing a punch of spice with my homemade Cajun seasoning mix and paired with a spicy and tangy remoulade. The Parmesan Herb combo has fragrant herbs and baked on Parmesan to give it a nice crunch, served up with a simple marinara sauce. My favorite was the Spicy Turmeric & Ginger. I made a scallion-soy dipping sauce similar to what you would use for dumplings and it was the perfect complement to the spicy ginger flavoring.
After the recipe comment below and let me know which flavor you're most excited to try or if you have a few of your own favorite ways to make it!
(makes 4 to 6 servings)
Ingredients:
2 large heads of cauliflower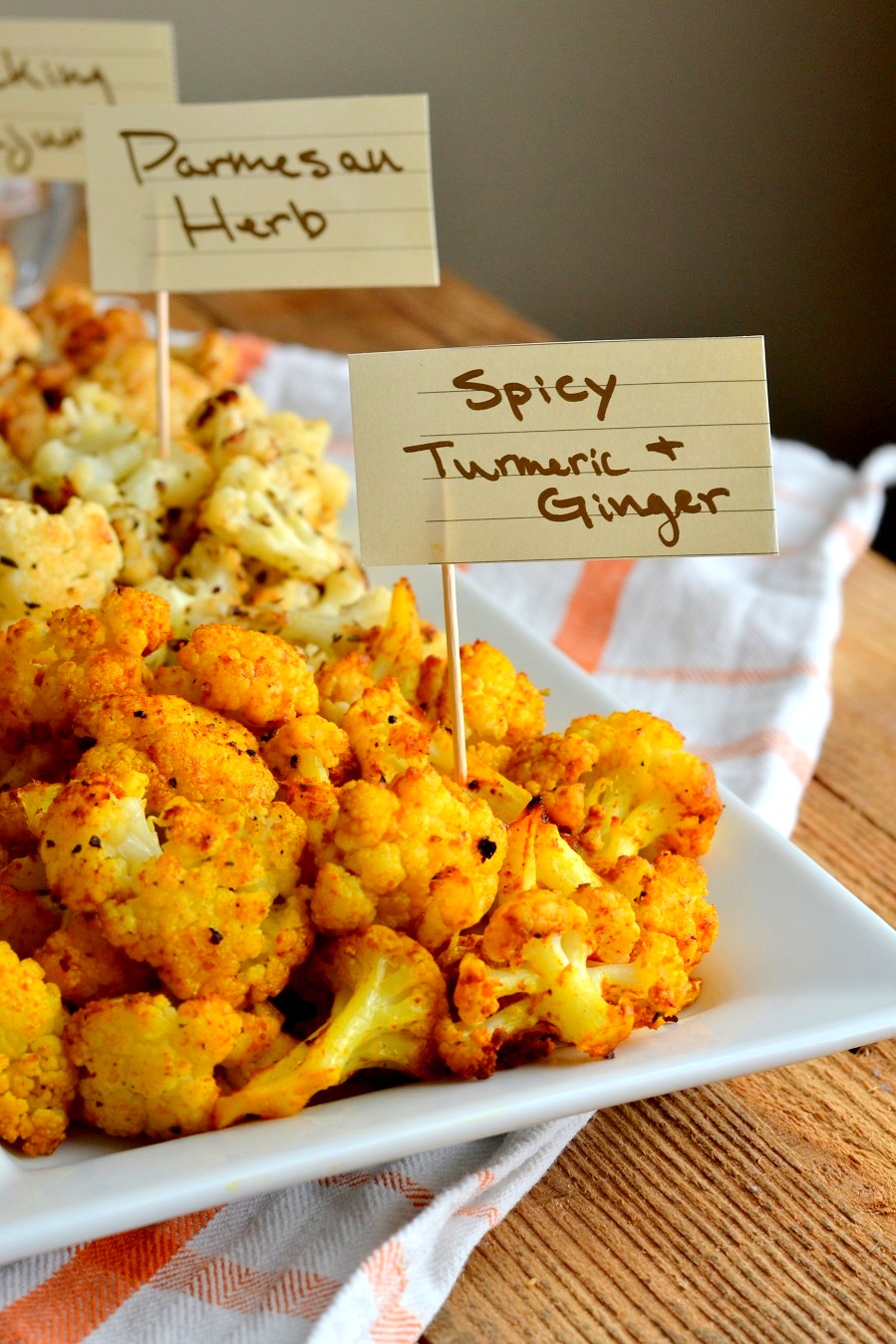 Spicy Turmeric & Ginger:
2 Tbs olive oil
1/2 Tbs ground ginger
1/2 Tbs turmeric
1 tsp chili powder
1 tsp cayenne pepper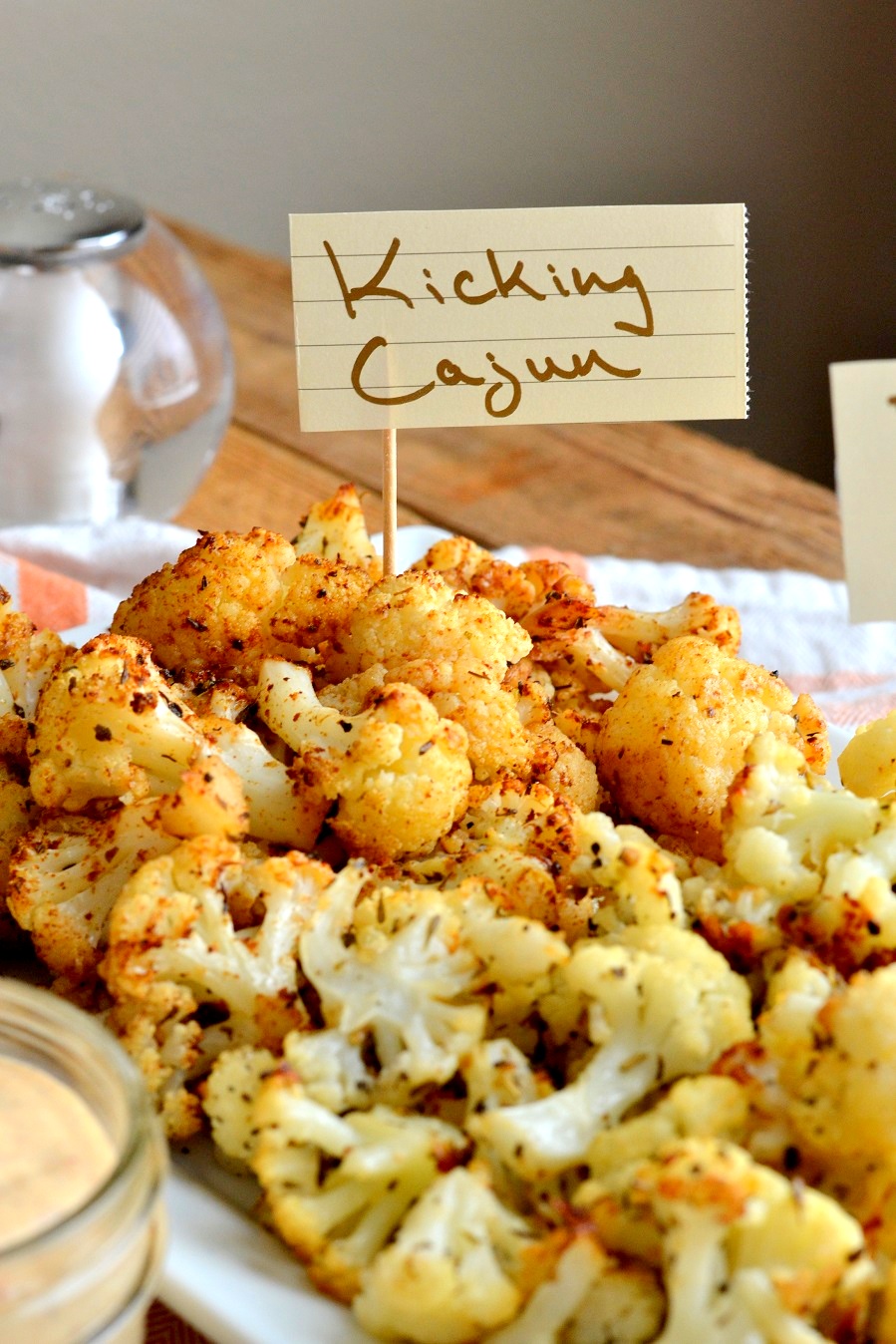 Kicking Cajun:
2 Tbs olive oil
1 1/2 Tbs Cajun seasoning – click here for my homemade version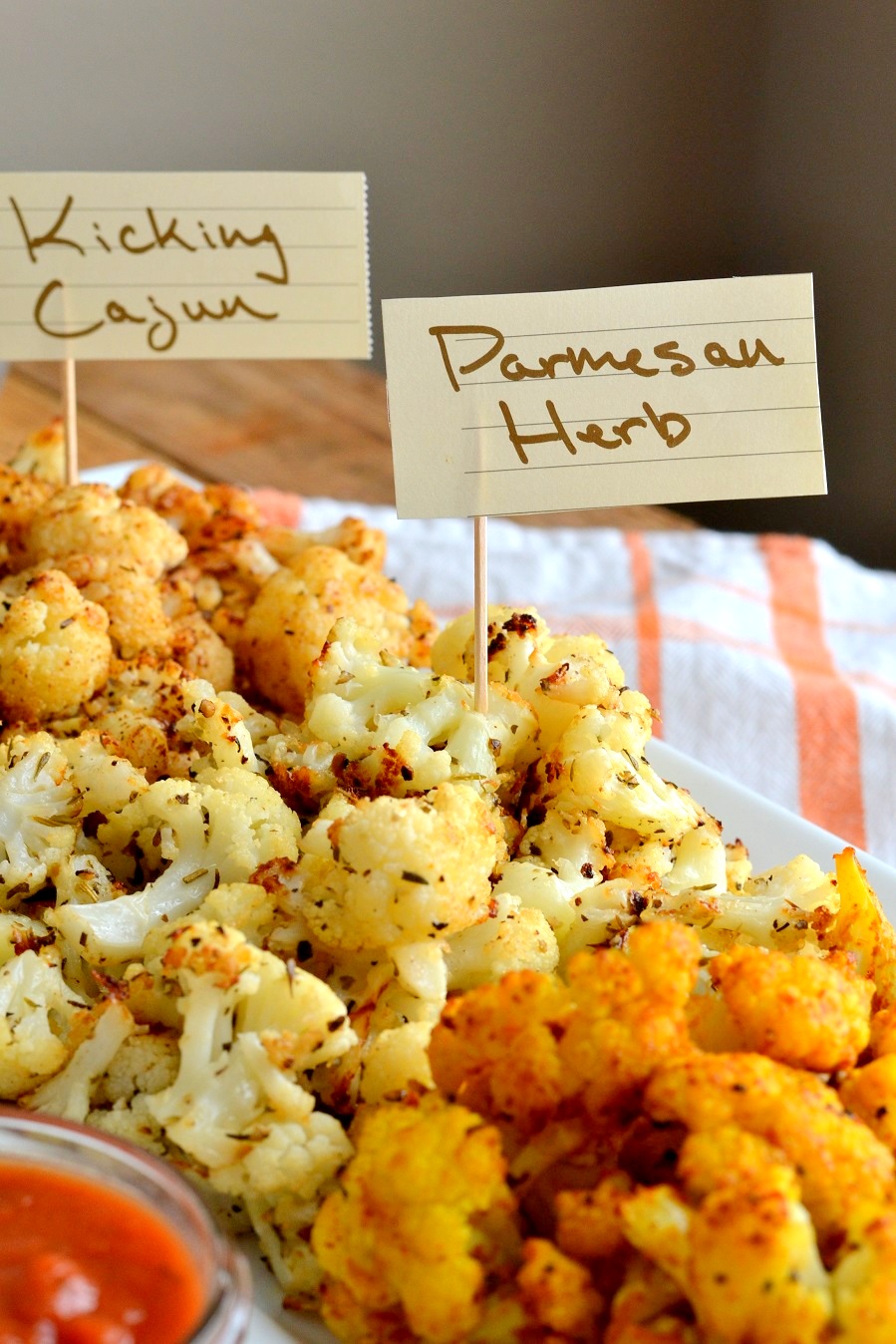 Parmesan Herb:
2 Tbs olive oil
2 Tbs grate Parmesan cheese
1/2 Tbs Italian seasoning
See below for sauce ingredients and instructions.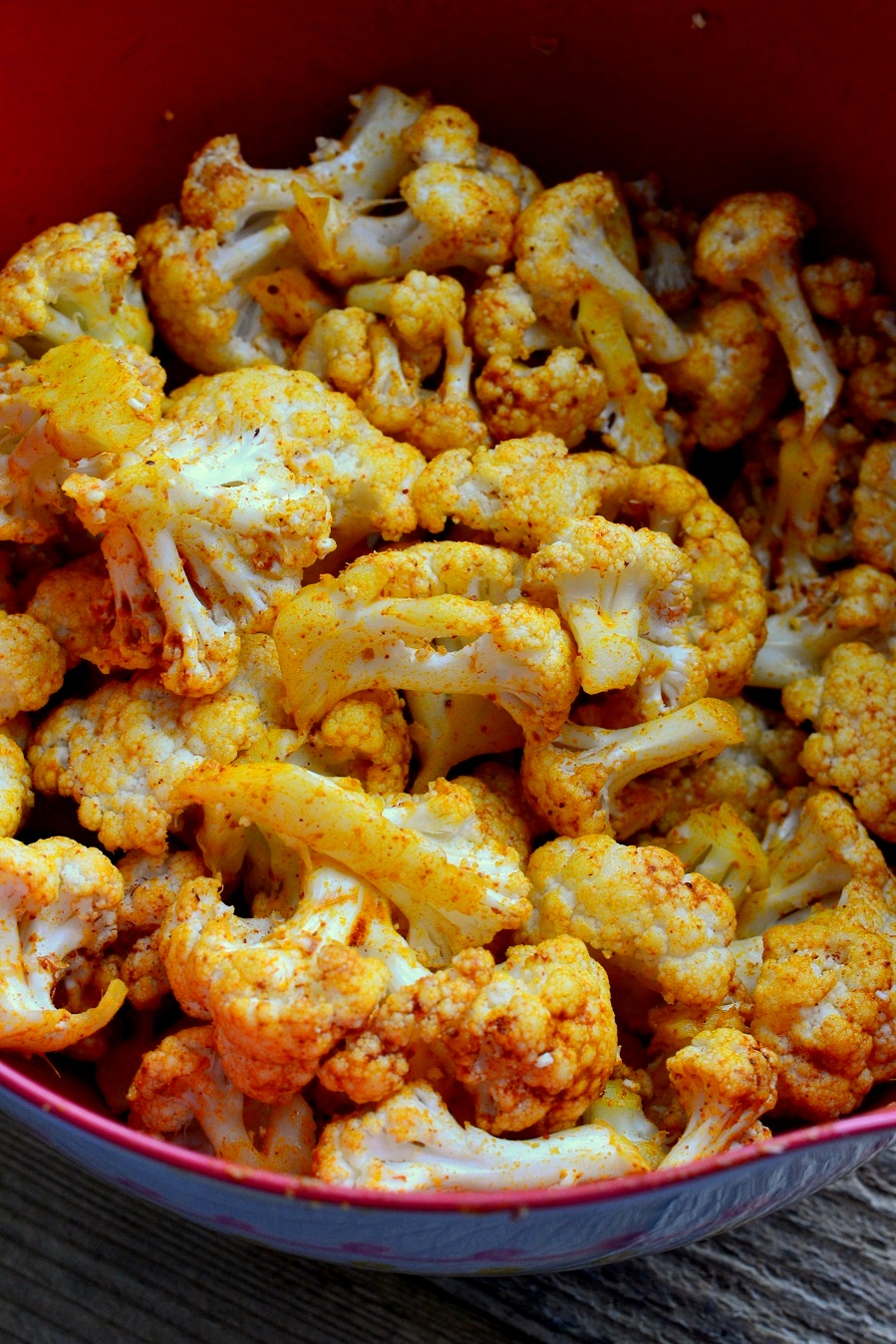 Preheat oven to 425 degrees F and line 3 medium sized baking sheets with foil or parchment paper.
Break cauliflower into bite sized pieces, wash, and pat dry. Distribute evenly into 3 large bowls, roughly 3 cups per bowl.
For each flavor you will drizzle 2 tablespoons of olive oil over the cauliflower florets, toss to coat, and then add remaining ingredients. Keeping the flavors separate, spread them out in a single layer on prepared baking sheets.
Place in the oven to bake for 20 minutes. Remove from the oven, toss with a spatula, then place back in the oven to finish baking another 10 to 15 minutes.
While waiting for the cauliflower to cook you can prepare your sauces.
Scallion-Soy Dipping Sauce:
1/4 cup soy sauce
1/4 cup apple cider vinegar
2 tsp olive oil
1 tsp brown sugar
Half of a scallion/green onion, finely chopped
Small pinch of red pepper flakes
Mix all ingredients in a small canning jar, seal, and shake for 10-15 seconds to mix. Shake again before serving. Store in the refrigerator. To keep for a longer period of time, add scallions just before serving.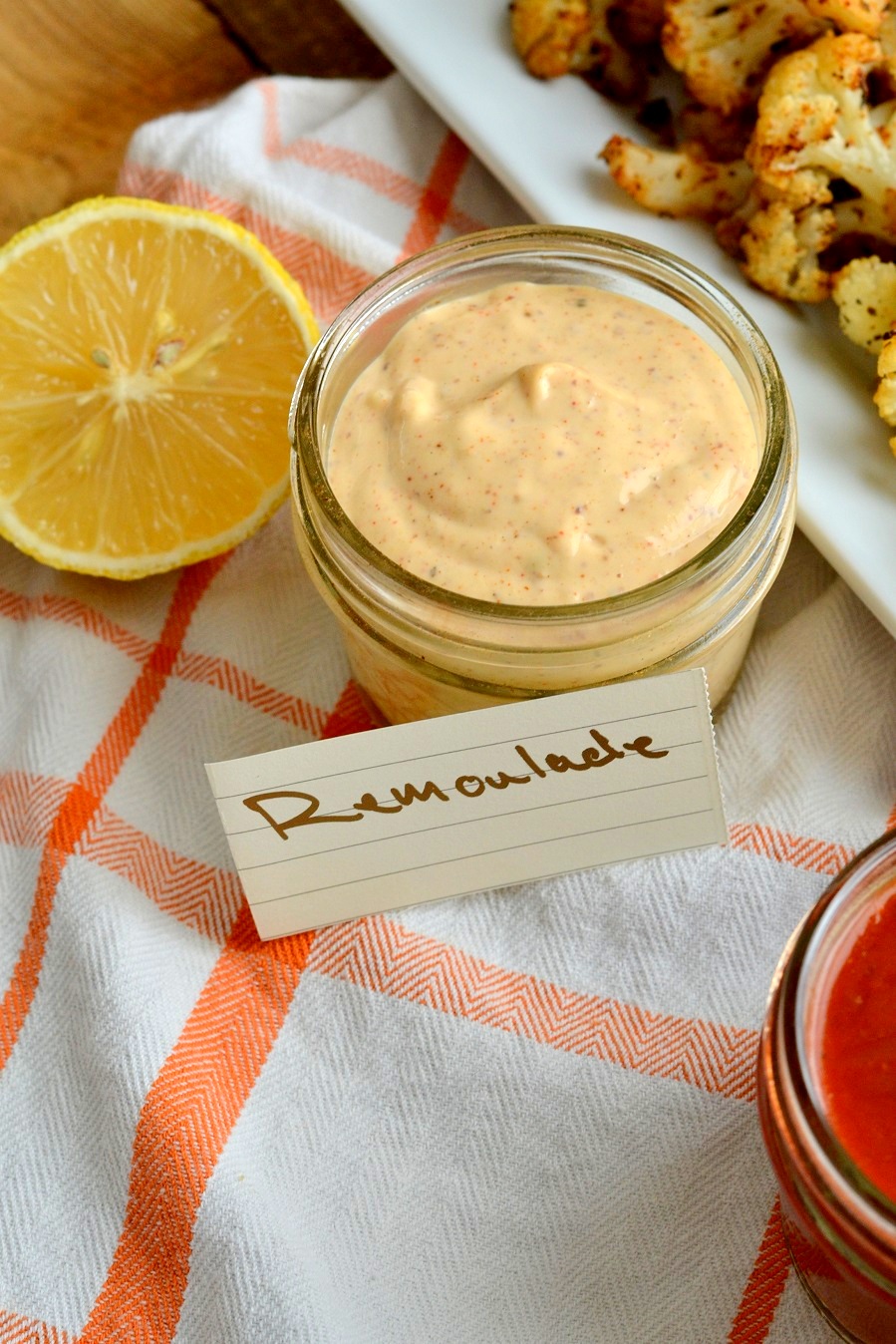 Remoulade:
1/2 cup mayonnaise
1 Tbs Dijon mustard
3 tsp fresh lemon juice
2 tsp hot sauce
1 tsp Cajun seasoning
1 garlic clove, minced
Mix all ingredients in a small bowl until completely blended. Transfer to a small canning jar or dish for serving. Keep covered and refrigerated until ready to use.
Ready for the easiest one?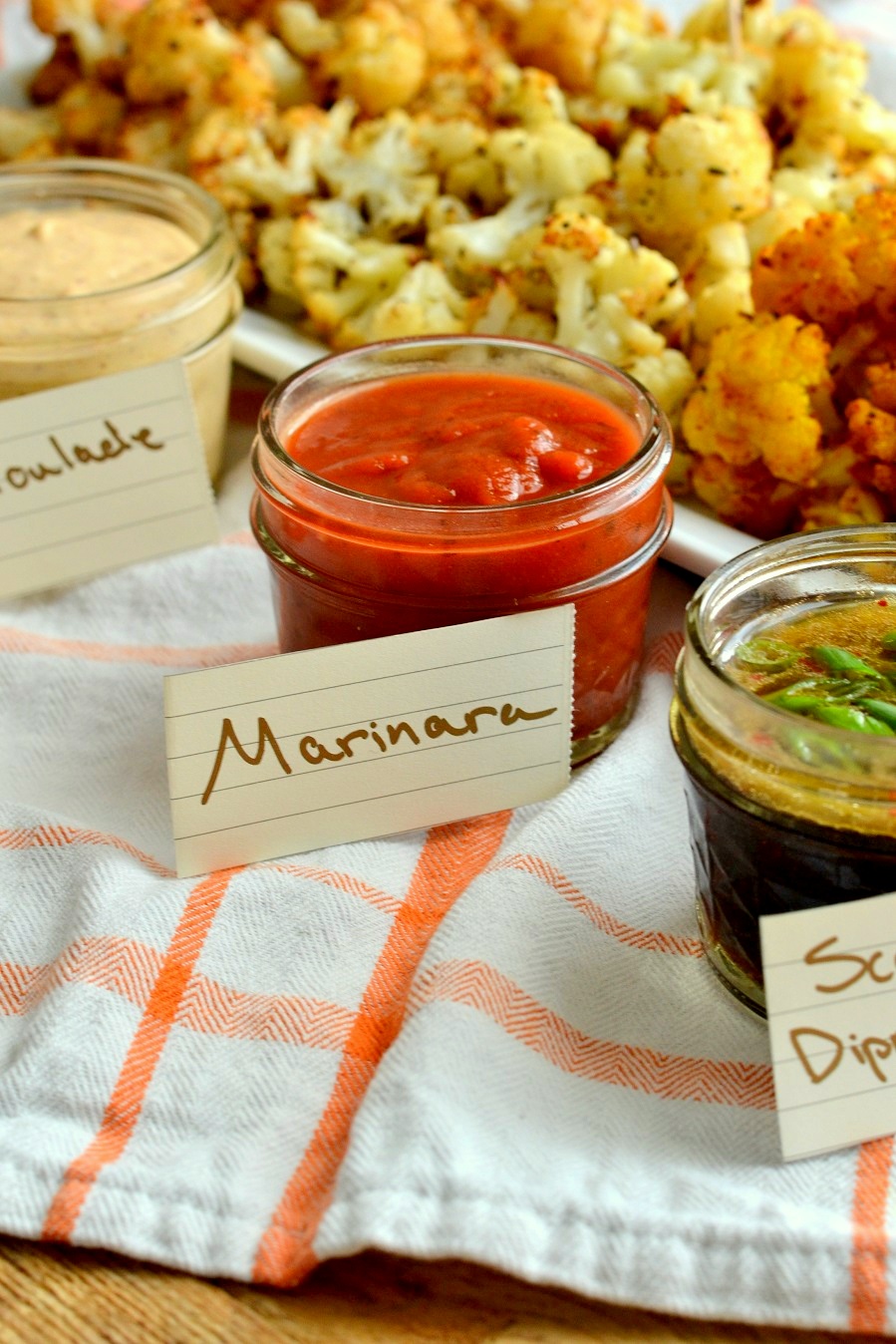 Marinara Dipping Sauce:
1/2 cup marinara (store bought or homemade.. you choose!)
Warm marinara in the microwave for 20 to 30 seconds before serving.
Once the cauliflower is finished baking, dish it up, and serve with it's matching dipping sauce.
Enjoy!