A few years back I did a cookbook review for Taste of Home's Simple & Delicious Cookbook and I recently rediscovered it while I was packing. I had dog-eared the pages of tons of recipes I wanted to cook and decided to revisit a few of them for inspiration. One was for a simple appetizer of cranberry-brie tartlets where they used pre-made refrigerated crescent rolls. Since my days off have been consumed with packing/cleaning/moving/painting, any recipe that saves me a little bit of time is a win in my book!
For my tartlet combination I went with mushrooms sauteed in butter, garlic, and fresh thyme, a sweet and savory caramelized onion jam, and goat cheese crumbles on top of an airy buttery biscuit. Every element can be enjoyed separately, but throw them together all together and you've got muffin sized delicious perfection!
(makes 1 dozen)
Ingredients:
16oz whole baby bella mushrooms
3/4 cup unsalted butter
1 tsp fresh thyme leaves (or 1/2 tsp dried)
2 garlic cloves, minced
1 (8oz) tube of refrigerated crescent rolls
5 to 6 Tbs of goat cheese crumbles
Caramelized Onion Jam:
2 Tbs olive oil
1 large yellow onion, finely chopped
6-8 sprigs of fresh thyme
2 Tbs sugar
3 Tbs balsamic vinegar
Salt and pepper to taste
I like to make the caramelized onion jam first (it can actually be made up to a week in advance). Heat a large skillet over medium heat. (1.) Once hot, add olive oil, onions, and thyme. (2.) Saute for 10 to 15 minutes or until lightly browned. (3.) Add sugar over the top and cook without stirring for 3 to 5 minutes. Stir to coat and then remove sprigs of thyme. (4.) Add balsamic vinegar and stir to deglaze pan. Cook for 2 to 3 more minutes or until most of the vinegar has cooked in.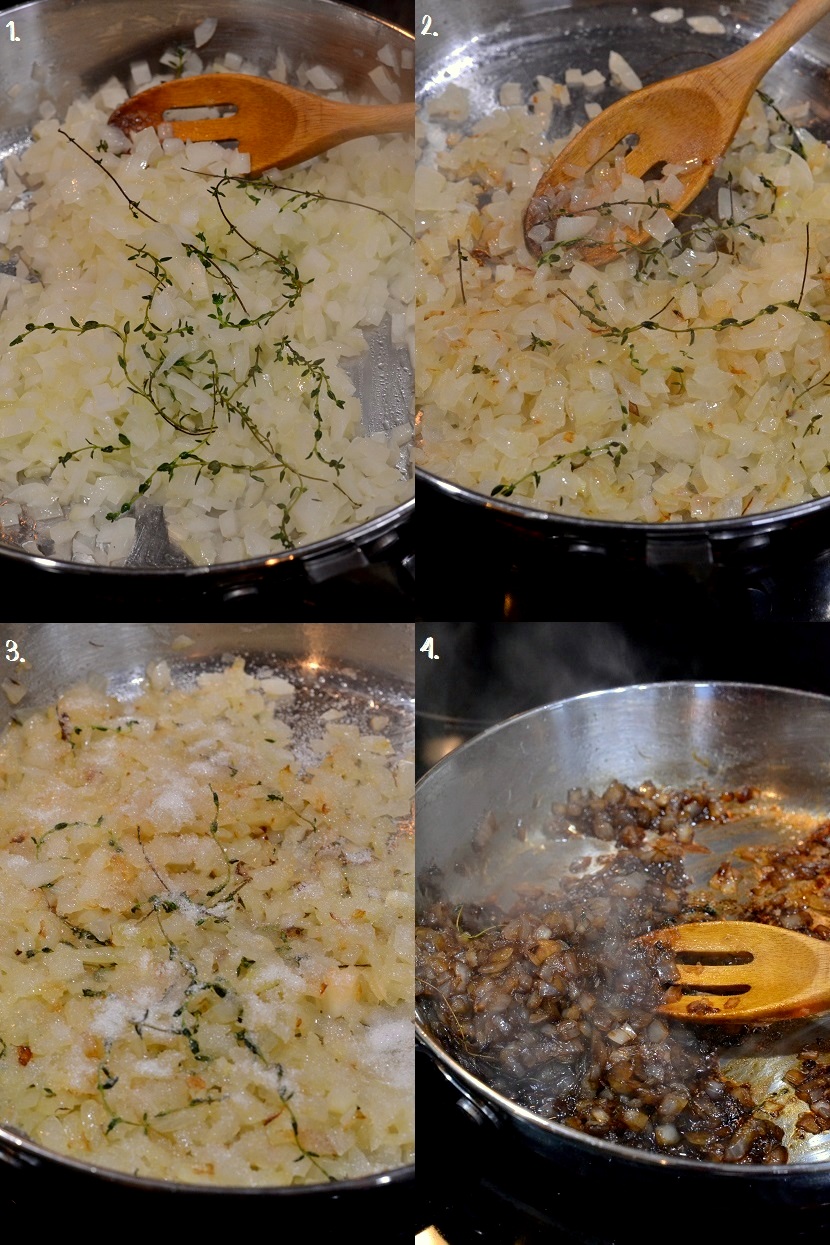 Remove from heat and set aside to cool slightly. Transfer to a small glass canning jar, seal, and store in the refrigerator until ready to use. This onion jam is soooo good! I had a little extra after this recipe and made a little snack of crackers, cream cheese, and a bit of this on top. I definitely intend to use it in future dishes!
Now onto the mushrooms..
(5.) Wash and pat the mushrooms dry with a paper towel. (6.) Remove the stems and dice mushrooms and the stems into 1/4 inch thick pieces. (7.) In a large skillet over medium heat, add butter and dried thyme. (8.) Once butter is completely melted add mushrooms and garlic. Saute for 7 to 10 minutes or until mushrooms are tender.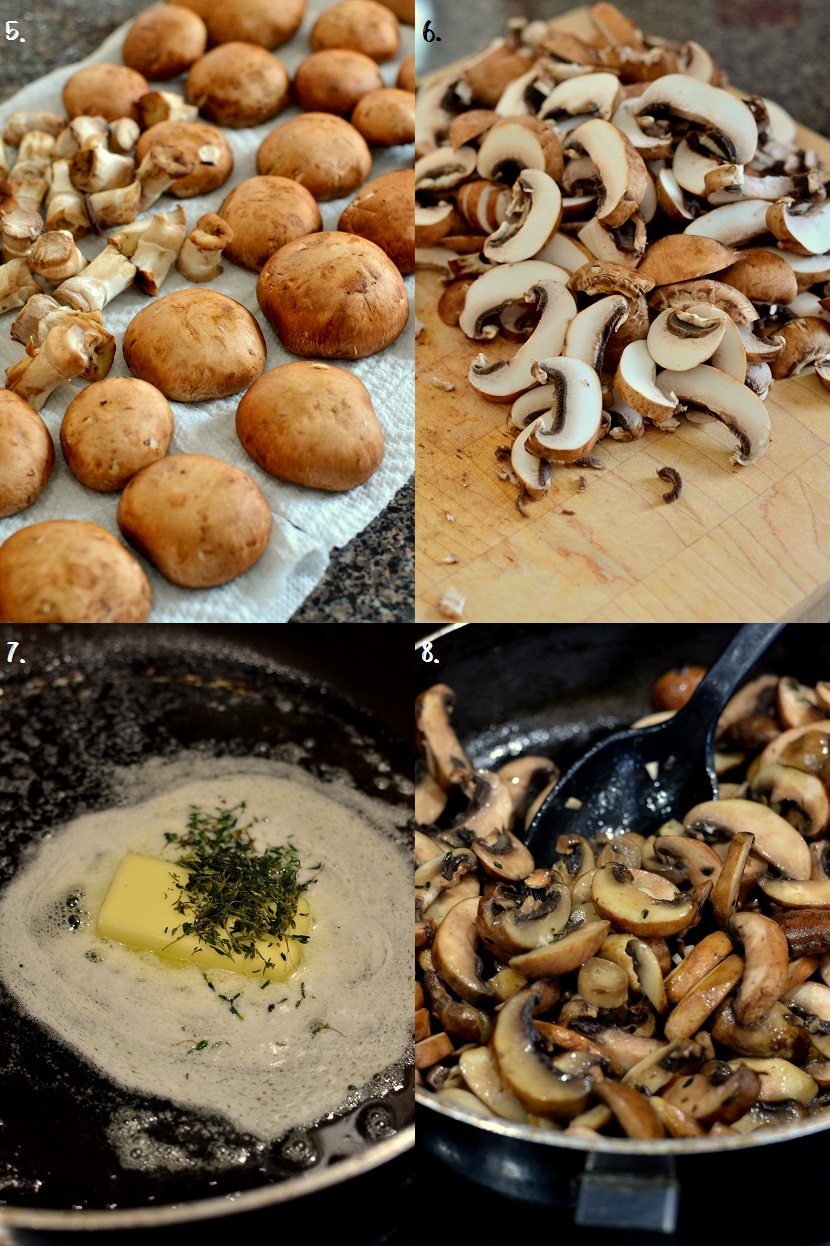 Preheat oven to 375 degrees F.
While the mushrooms are cooking you can prep your dough. Unroll the tube of crescent rolls and rip off 12 even pieces. Form into small dough balls.
(9.) Press each ball into an ungreased 12 cup muffin tin, lightly stretching up the sides of each muffin cup. (10.) Add a teaspoon of the caramelized onion jam and spread across the bottom with the back of the spoon. (11.) Add a heaping tablespoon of mushrooms. (12.) Then finally the goat cheese crumbles.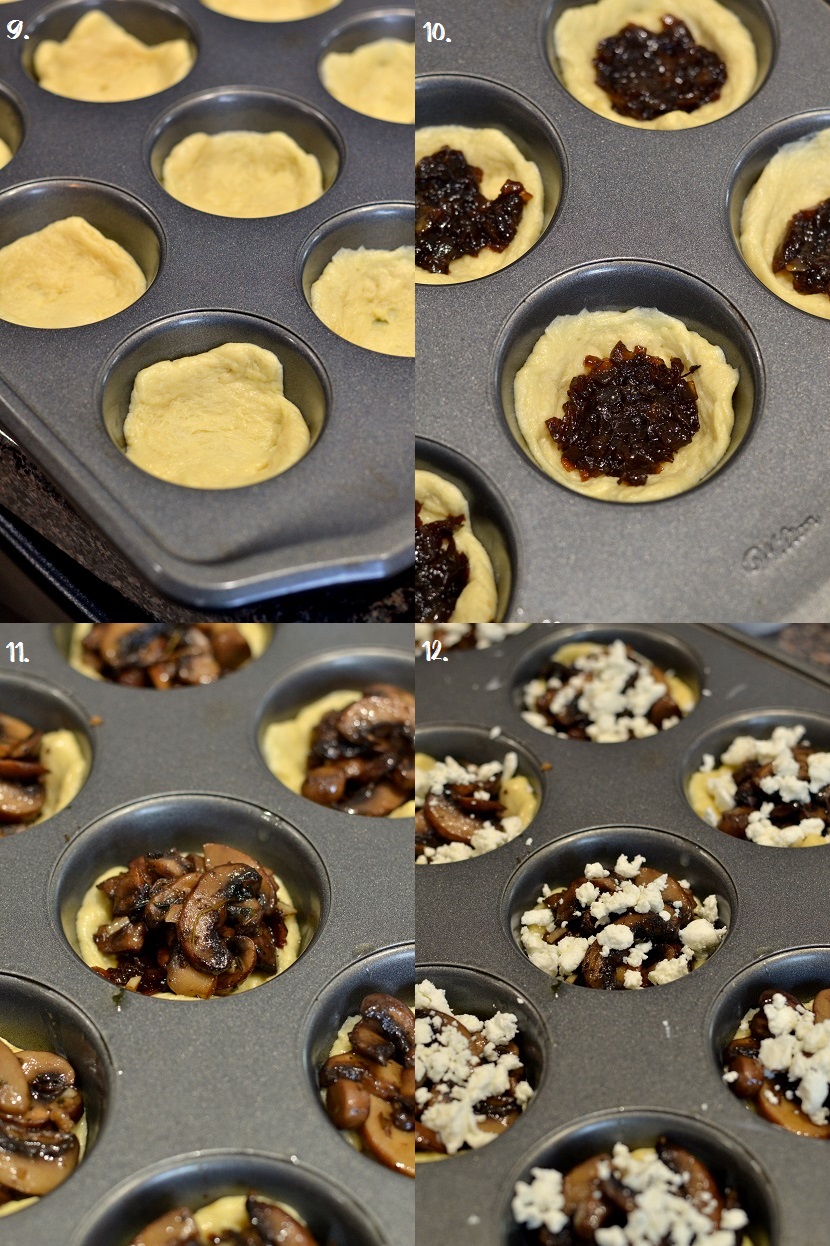 Place in the oven to bake for 15 minutes or until cheese starts to lightly brown. Remove from the oven and allow to cool for a few minutes. Carefully remove each tartlet using a butterknife to loosen the edges and place on a cooling rack for a few minutes. Serve while still warm.
Enjoy!