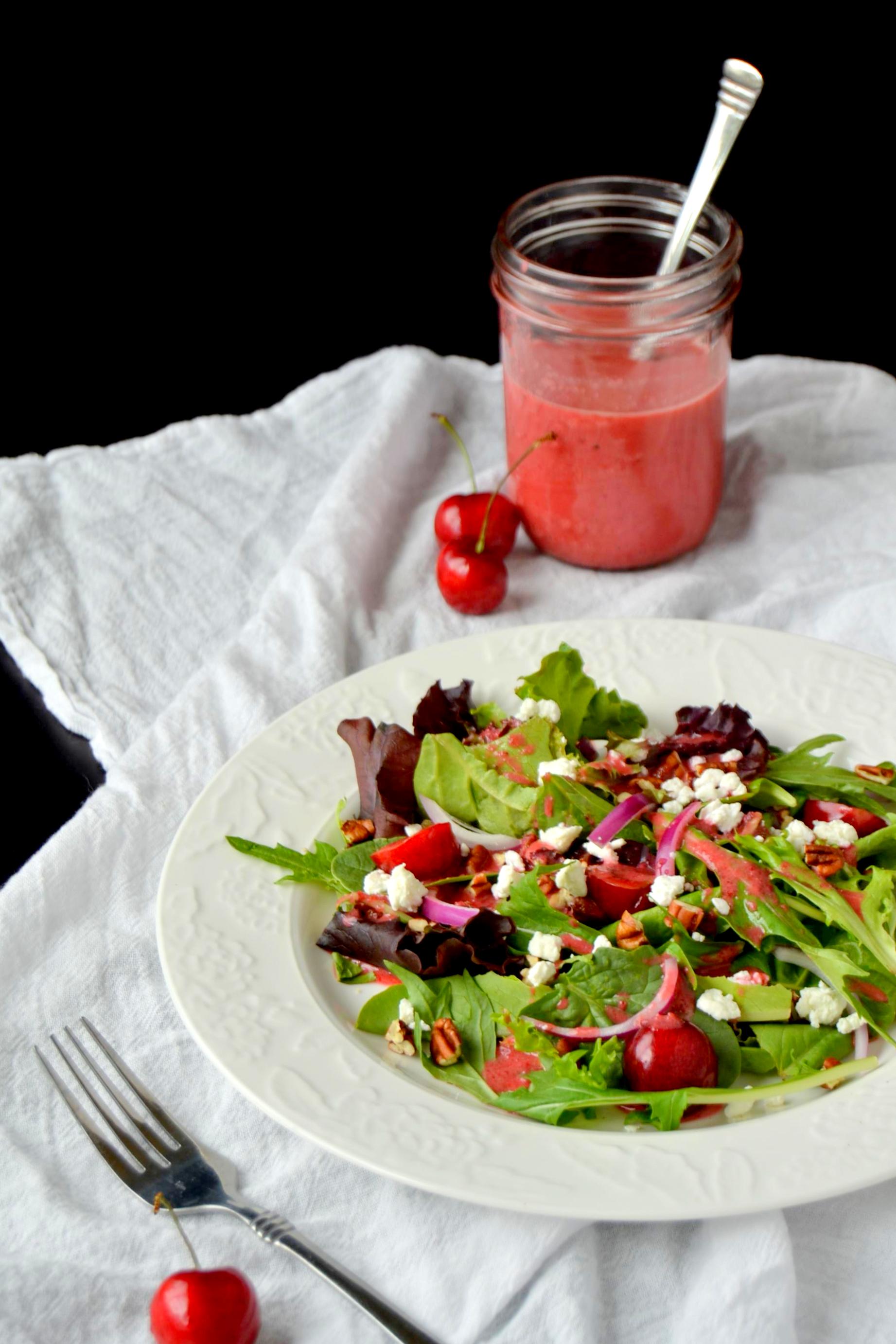 I'm very deliberate about my grocery shopping and if it's not on the list, I'm not buying it. Okay.. maybe Ben & Jerry's is never "officially" on the list, but it's sort of a given that it will make it's way into the cart. Guilty pleasures aside, I started to walk past these cherries and stopped dead in my tracks. They were far too vibrant, plump, and juicy looking to pass up!
Once I was home, inspiration struck and I threw together a sweet and strong cocktail (that I'll be sharing next week) and this lovely vinaigrette! I'm not a big salad person, but they're pretty tough to resist with a sweet and tangy dressing like this. I added some slices of red onion, rich goat cheese crumbles, chopped pecans, and of course some fresh cherries to complete this delicious summer salad!
…..
Ingredients:
1 garlic clove
1 cup fresh sweet cherries (about 15), stem and pit removed
1/4 cup white wine vinegar
1 tsp honey
1 tsp Dijon mustard
Salt and pepper to taste
1/4 cup olive oil
Mixed greens salad (or spinach, or kale, or whatever you like!)
1/4 cup fresh cherries (yes.. more!), stem and pit removed, cut in half
1/4 of a medium red onion, cut into slice
1/2 cup pecans, roughly chopped
1/4 cup goat cheese crumbles
Add garlic clove to a food processor or blender and puree until minced. Add cherries, vinegar, honey, Dijon mustard, salt, and pepper and puree for 20-30 seconds. Stop and scrape down the sides. Hit puree once more and then slowly pour olive oil in until completely mixed. Transfer to a canning jar or other sealing container and place in the refrigerator until ready to use. The vinaigrette will keep for about two weeks, but I think it's flavor is best within the first week and always give it a few shakes before using.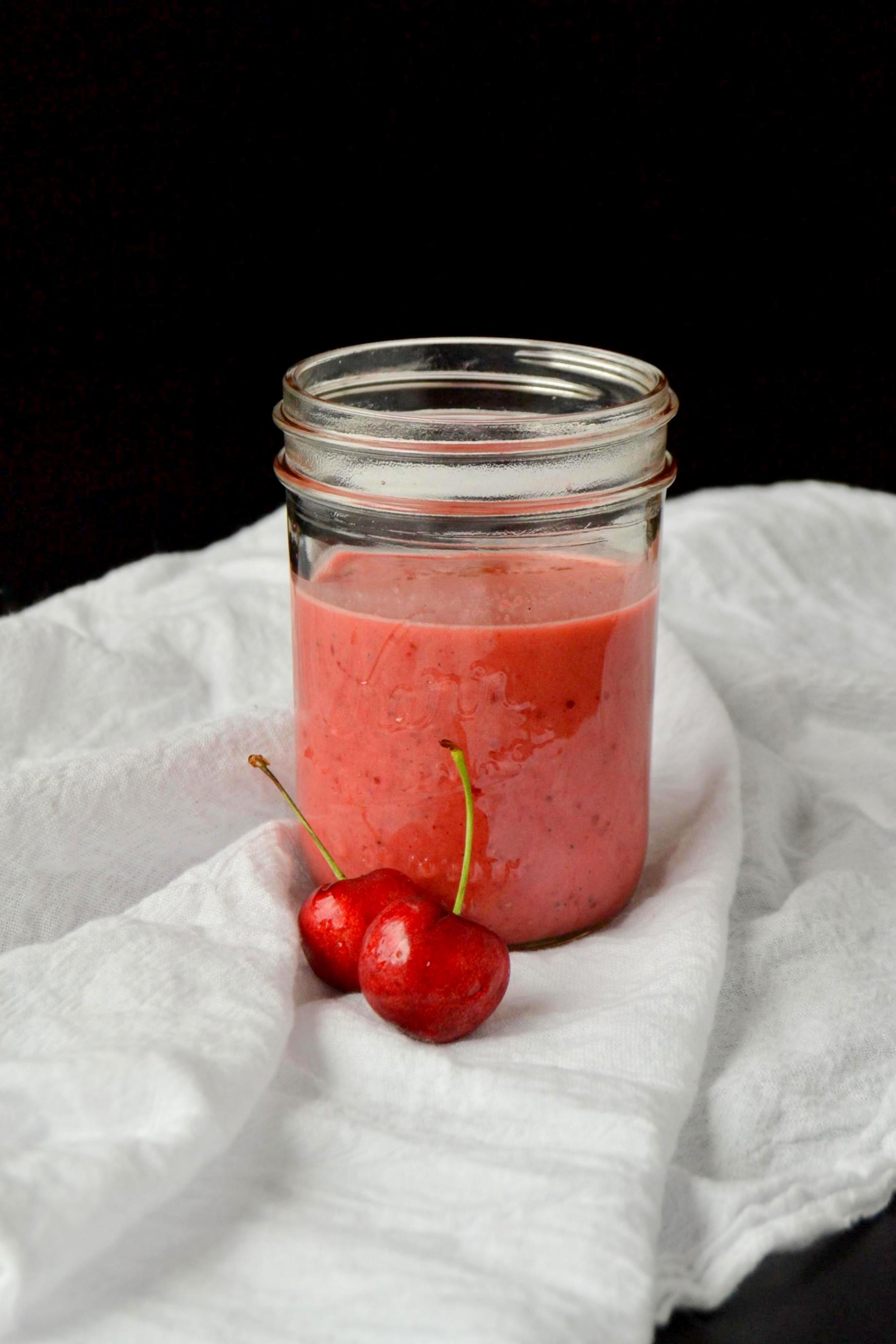 Add a few handfuls of mixed greens to a plate, add cherry halves, red onion slices, chopped pecans, and goat cheese. Drizzle several spoonfuls of the cherry vinaigrette over the top and serve.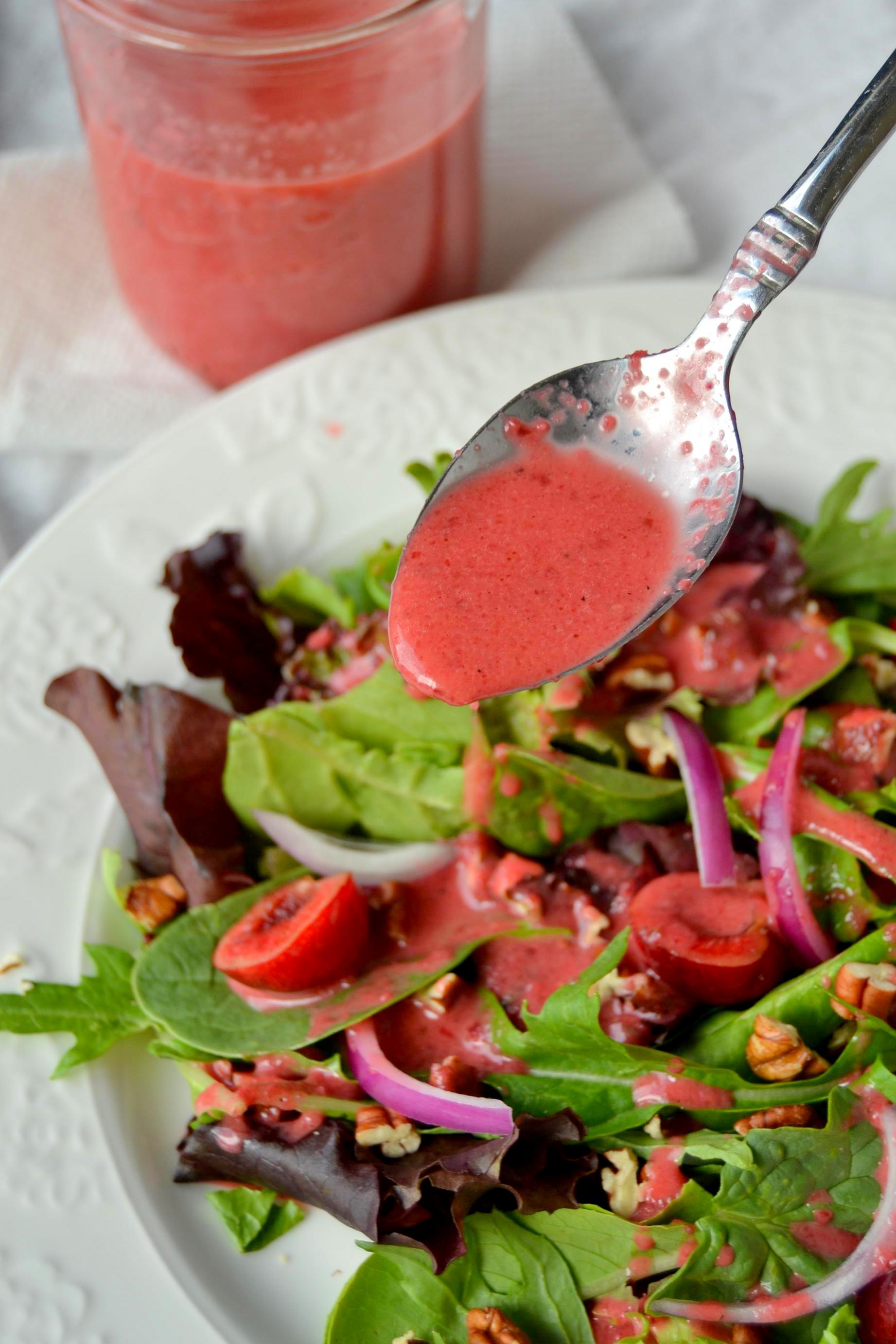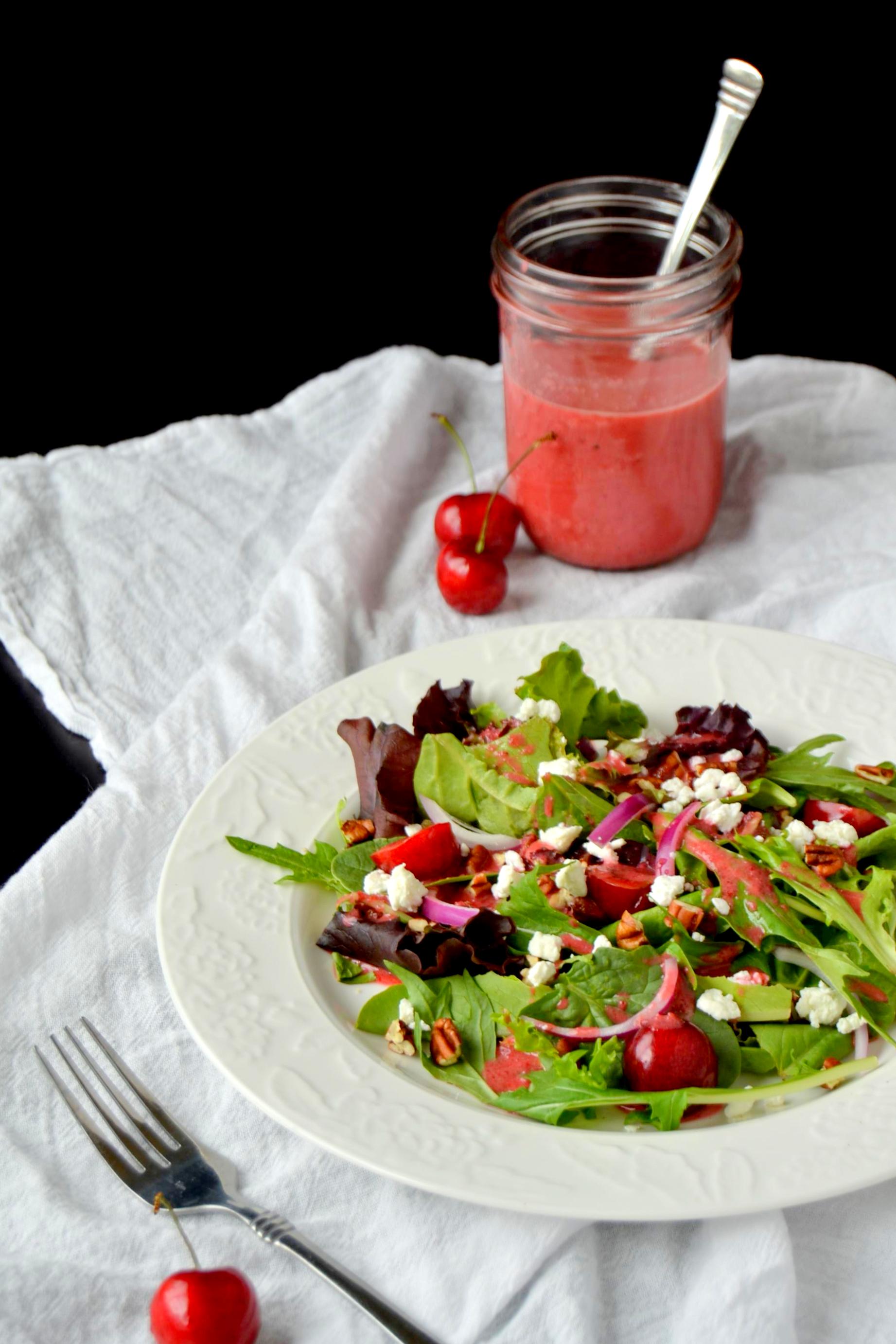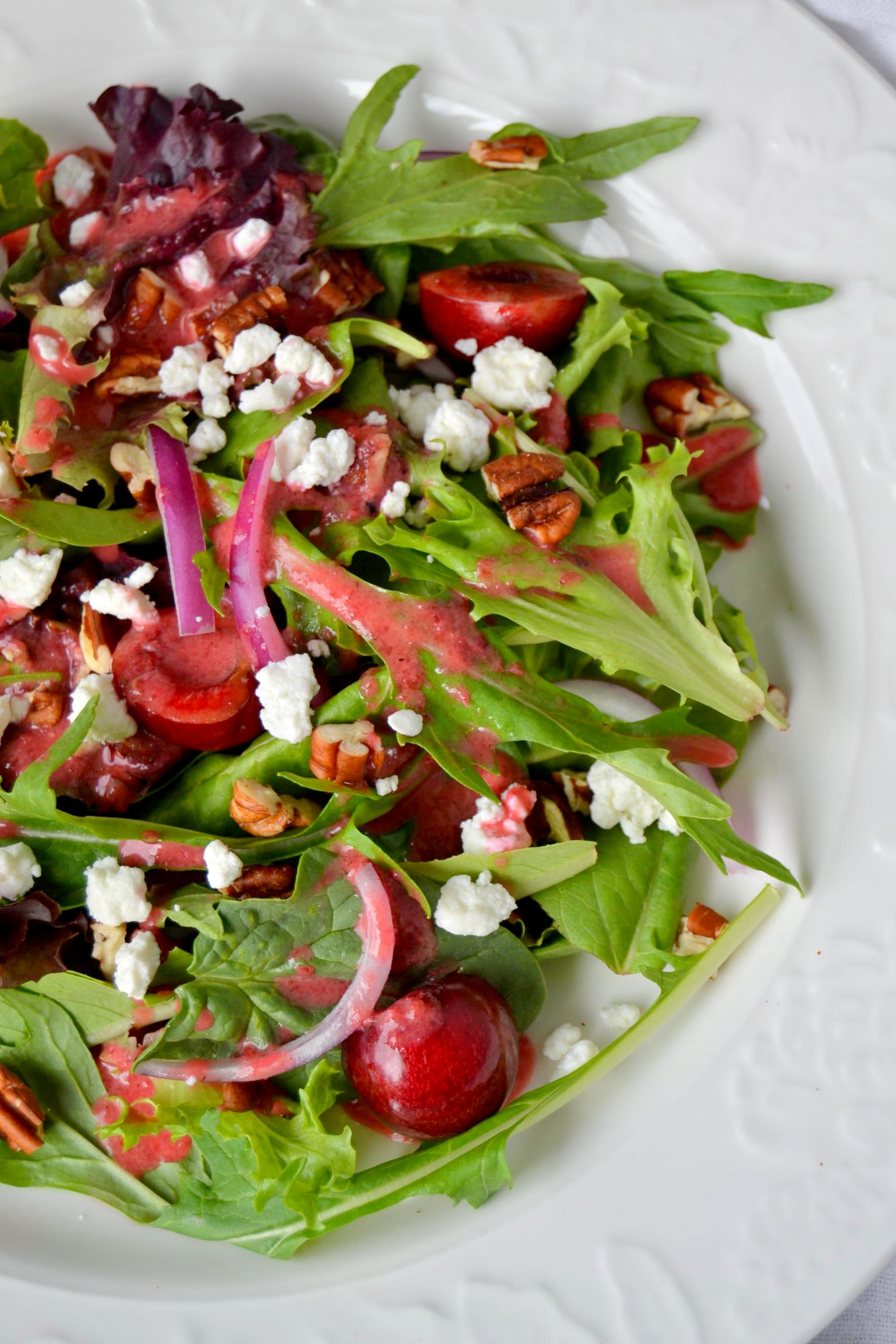 Enjoy!