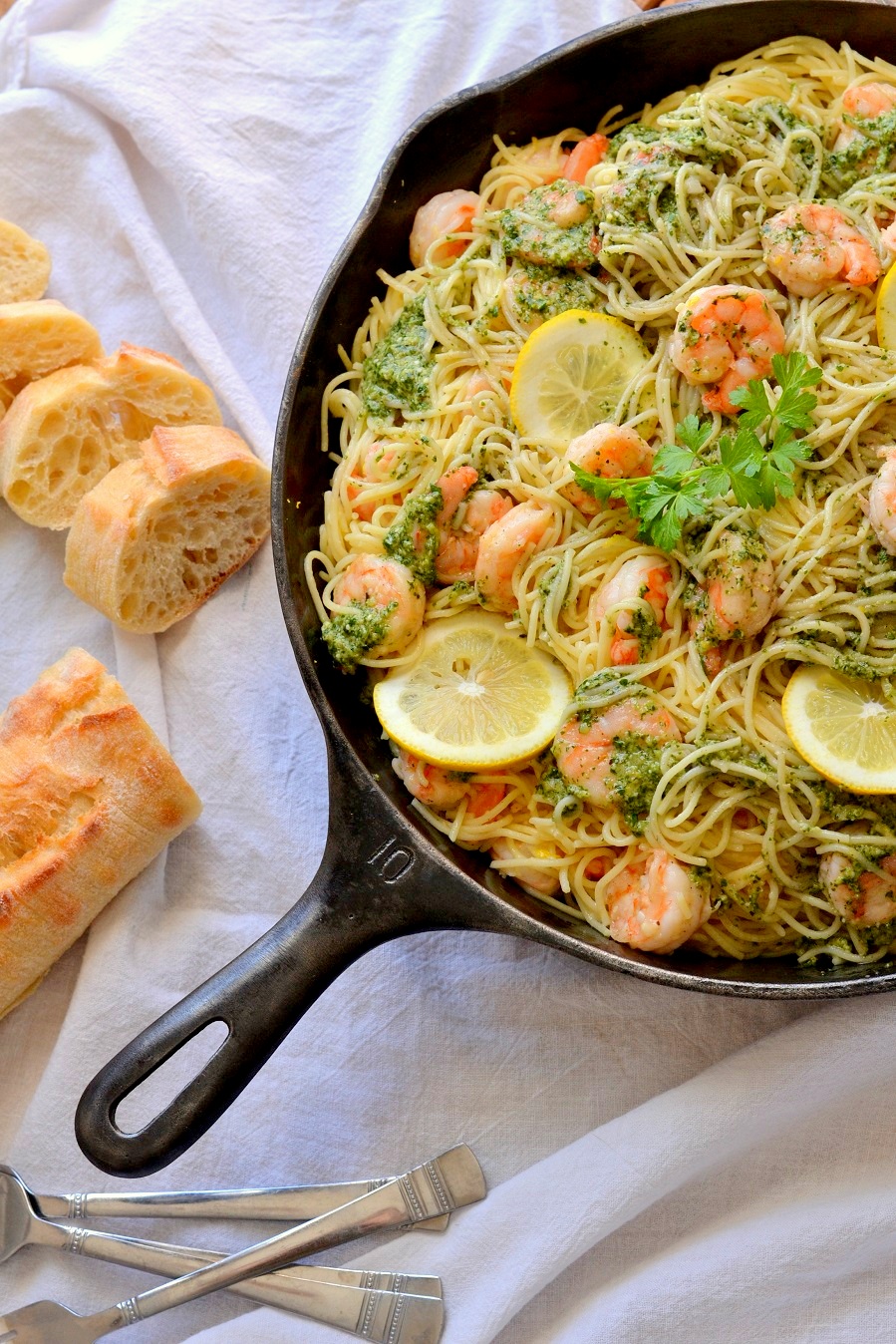 Ever since our trip to Italy I've been craving a big plate of decadent buttery seafood and pasta.. and of course wine.. and beautiful views.. and listening to everyone speak in perfect Italian. But since I won't be venturing back to Italy this year I opted to at least satisfy my cravings for the pasta, seafood, and wine! I'm happy to say that this dish did the trick and the best part was that it made A TON so I was able to enjoy seconds and have plenty for lunches throughout the week!
I sauteed the shrimp in butter with fresh garlic and lemon zest and then tossed everything together with the Lemon Garlic Parsley Pesto I shared yesterday. The tender garlic butter shrimp, tangy lemon, buttery al dente angel hair pasta, and the bright and zesty flavors from the pesto added complex flavors to a surprisingly simple dish. I didn't even care about how much pesto I had in my teeth because I was in a proverbial pasta heaven!
The only thing that would have made this dish better is if I would have used homemade pasta, which I can hopefully do very soon! My boyfriend gifted me a pasta maker for Christmas after we took a pasta making class during our stay in Rome. With the impending close date on our first home, I'll be making all kinds of pasta and new dishes for you out of my new (old) kitchen! Until then, you've got this one to enjoy!
(makes 8 to 10 servings)
Ingredients:
16oz uncooked angel hair pasta
1 cup (2 sticks) unsalted butter, divided
2 large garlic cloves, minced
1 1/2lbs peeled, deveined, uncooked shrimp
Salt and freshly ground black pepper
1/4 tsp cayenne pepper
Zest from 1 lemon
Juice from 1 lemon
3/4 to 1 cup chicken stock
1/2 cup grated Parmesan cheese
1 cup Lemon Garlic Parsley Pesto – get the recipe here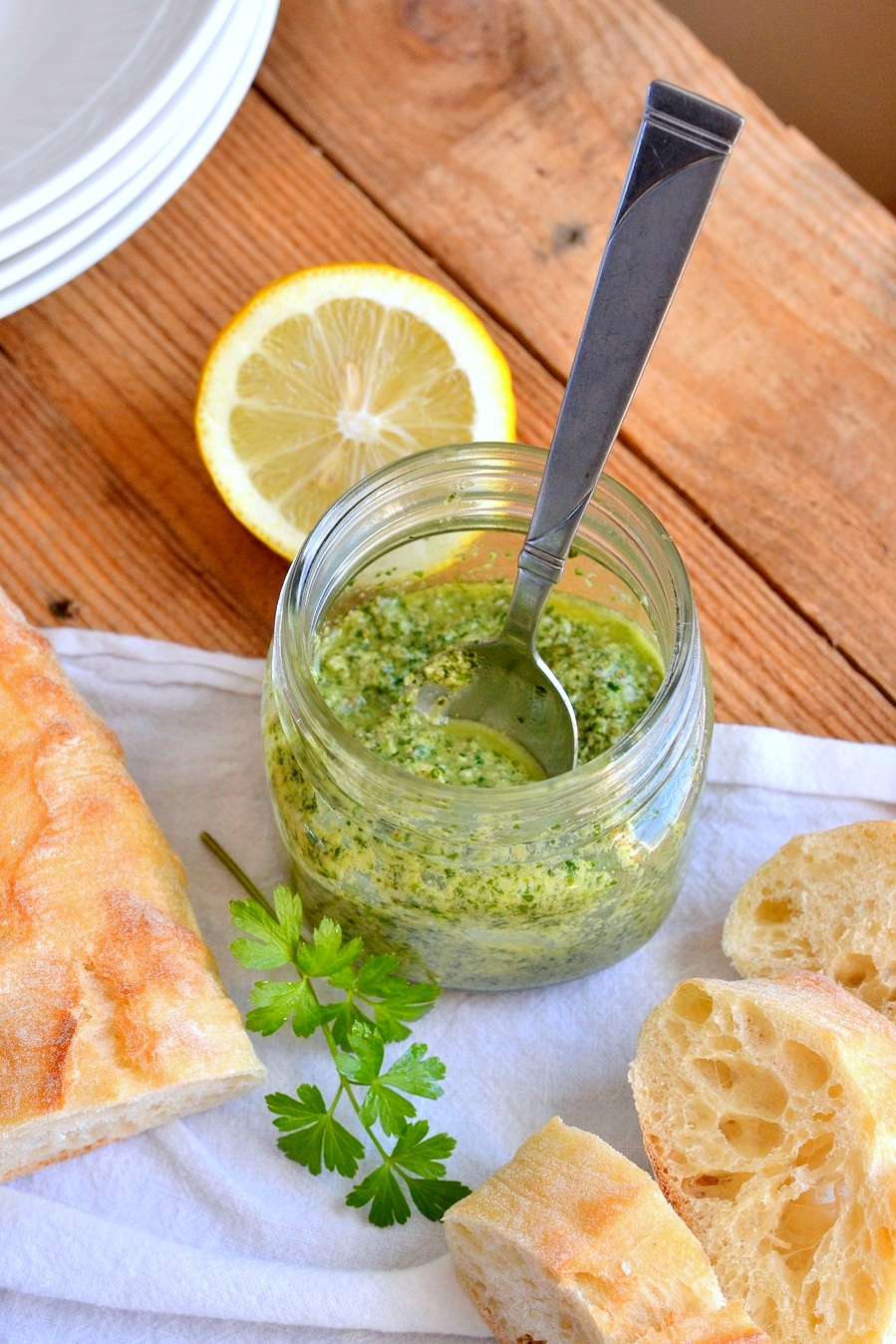 Add pasta to a large pot of salted boiling water. Cook for 4 to 5 minutes or until al dente. Save 1 cup of the pasta water in a glass or measuring cup and add a chicken stock cube. Drain the rest of the pasta and add 1 stick of butter. Toss until butter is mostly melted and cover with a lid.
In a large skillet heat remaining stick of butter over medium heat. Add minced garlic and shrimp, season with salt, pepper, and cayenne pepper. Cook for 1 to 2 minutes and add lemon zest. Cook another 2 to 3 minutes, tossing shrimp to cook evenly, until shrimp is pink and opaque.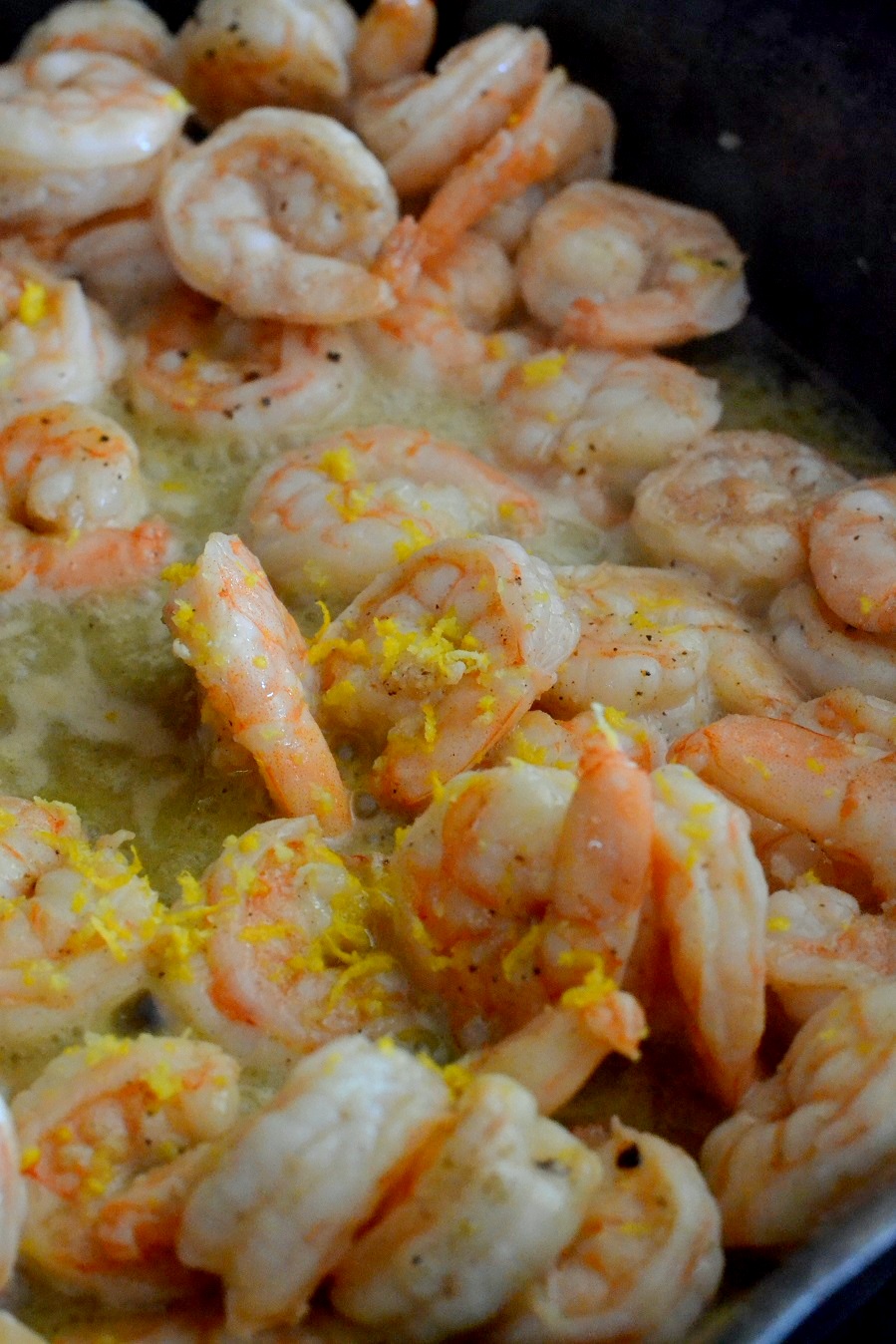 Add contents of the skillet to the pasta along with lemon juice, chicken stock, and Parmesan cheese. Toss to evenly coat. Stir the pesto in at the very end. Serve with fresh parsley and lemon wedges.
Enjoy!